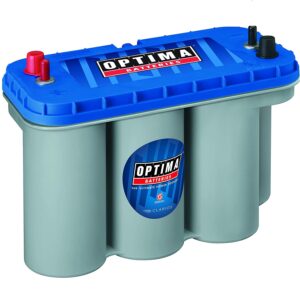 Optima D31M BlueTop is designed as a dual purpose battery, both starting and deep cycle for people who need a sure-starting, strong cranking, and maintenance free power source for their boat or RV, even in harsh conditions.
Optima Blue Top D31M User Manual
Having a problem? Download Optima Blue Top D31M instructions.


---
Pros & Cons of Optima Blue Top D31M
Pros
Up to three times more recharges than other marine batteries
More than 15 times the vibration resistance
SpiralCell Technology
Works well as a boat battery or RV battery
Cons
---
Related Video: Difference Between Optima Red Top Yellow Top Blue Top
---