It's time to sell your RV! But where do you start? This comprehensive guide will walk you through the entire process, from preparing your RV for sale to negotiating the best deal. We'll answer common questions about how to sell an RV, and provide useful tips to make the process as smooth and stress-free as possible. So whether you're a first-time seller or an experienced pro, read on for everything you need to know about how to sell your RV!
Where to Sell an RV?
Once you've decided to sell your RV, the next step is figuring out where. You'll want to choose a place that will be cost-effective and make it easy for potential buyers to find you. Here are some of the best options:
Online Marketplace: There are many online marketplaces dedicated to RVs, including websites like RV Trader, eBay Motors, and Auto Trader. These sites let you create an ad listing with all the details about your vehicle and allow potential buyers to contact you directly.
Local Buyers: If there's a large RV community in your area, you may have luck selling through classified ads or by word of mouth. You can also reach out to local RV dealerships and ask to have your vehicle listed on their lot.
Auctions: You can sell your RV through an online or in-person auction house. This is a great option because you'll be able to reach potential buyers from all over the country, but make sure you understand the terms and conditions before signing any contracts.
No matter what route you take, it's important to price your RV at a fair rate that reflects its condition and features.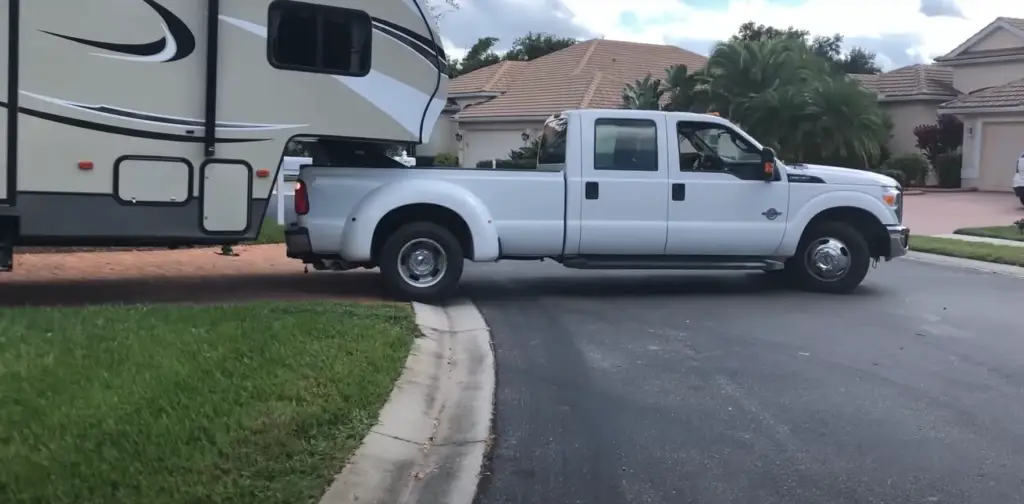 Once you've chosen a selling method and set a price, it's time to start marketing your RV.
Sell RV Online – Private Sale
When listing your RV online, make sure to include a detailed description of the vehicle and lots of photos. Potential buyers will want to feel comfortable with the condition of the RV before committing to buy it, so be as transparent about its features and flaws as possible. To create a successful ad, you'll need to do some research on what key words or phrases potential buyers might search for when looking for an RV.
Also consider setting up video tours of the interior and exterior of your RV. This is becoming increasingly popular among online shoppers and can help set you apart from other sellers in your area. With these tips in mind, create an effective ad that stands out from the competition.
RV Dealer Sale or Trade-in
Another option for selling your RV is to take it to an RV dealership. Many dealerships offer both consignment services, as well as outright buying and trade-in options. When you visit the dealership, be sure to bring all relevant paperwork and documents related to your vehicle. This will help the dealer assess its value and finalize a price.
If you decide to trade-in your RV instead of selling it outright, consider what type of vehicle you would like in exchange. Determine ahead of time how much money you're willing to spend on a new vehicle versus how much the dealership is offering for your old one. This will make it easier when negotiating a fair deal that works for both parties.
RV Consignment
Consigning your RV to a dealership is another option for selling. This can be a great way to get your RV sold with minimal hassle since the dealership will handle everything from advertising and showings to paperwork and negotiations. However, make sure you understand how much of the profit you'll receive for the sale before signing any contracts.
Whether you decide to list your RV online, trade it in at a dealership, or consign it through a dealer, remember that patience is key when selling an RV. It may take some time before you find a buyer who's willing to give you the price that you want, but if you follow these tips, selling your vehicle should be relatively stress-free!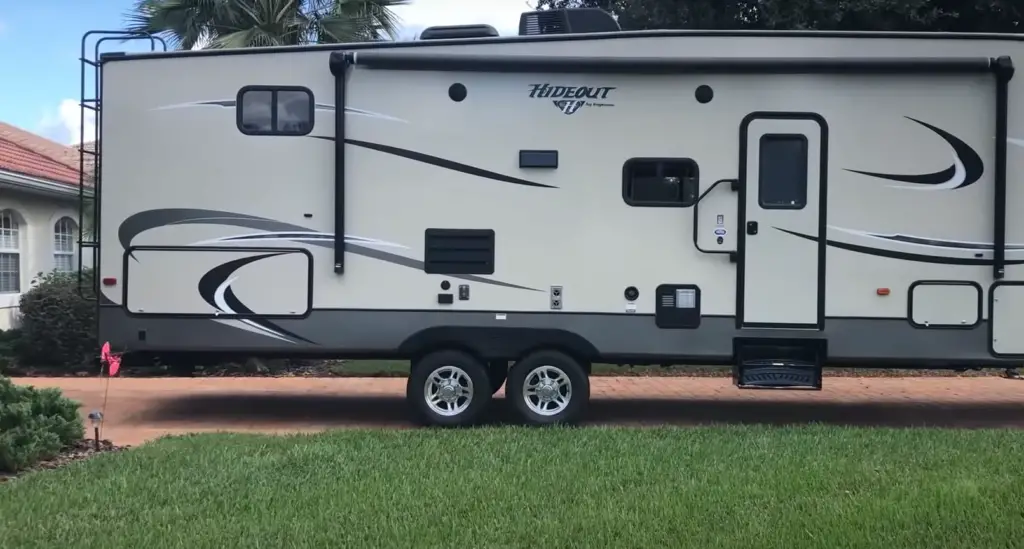 Marketing Your RV for Sale?
To get the word out about your RV, you'll want to create a compelling ad listing. Include as much information as possible about the vehicle, including year, make/model, features, and condition. You should also include high-quality photos that show off the interior and exterior of the RV.
Focus on how it's great for family trips or long road trips – whatever makes it stand out! Highlight any special amenities or upgrades that you added while owning it.
In addition to online marketplaces and classifieds, you can also post flyers at local RV parks or go to car shows to get the word out. You should also spread the word on social media – create a Facebook event invite and share it with your friends and family. [1]
Once you've received an offer from a potential buyer, make sure to thoroughly inspect their driver's license and proof of insurance before going through with the sale. Be sure to draw up paperwork that outlines the terms of agreement, including payment arrangements, transfer of title/registration, any warranties remaining on the vehicle, etc. Afterwards, you may want to consider filing a private party sales report in your state so you can avoid any future liability involving the RV.
Prepare RV to Sell
Once you've decided to sell your RV, it's time to get it ready for sale. This includes everything from simple maintenance and cleaning to more complex tasks like dealing with any damage or malfunctioning features.
Clean the Camper
Cleaning is an important step when it comes to selling your RV. Start by giving the interior a thorough cleaning and vacuuming, paying special attention to any signs of dirt or grime that may be hiding in hard-to-reach areas. Give the exterior a good wash too, making sure to get rid of any bugs and debris.
Fix What's Broken
If there's anything broken or in need of repair, it's a good idea to get that taken care of before putting your RV on the market. This could include things like fixing any leaks, replacing old tires, or repairing malfunctioning features such as windows and doors.
Check the Mechanics and Systems
Make sure to check all the systems and mechanics of your RV are in good working order. This includes checking the brakes, engine, suspension, steering system, and other mechanical parts as well as ensuring all electric features like lights and fans are functioning properly.
Don't Forget your Upgrades
If you've done any upgrades or modifications, make sure these are all working properly and that they have been properly documented. Potential buyers will appreciate knowing exactly what features your RV has and how they work. This could include anything from extra storage space to solar-powered appliances.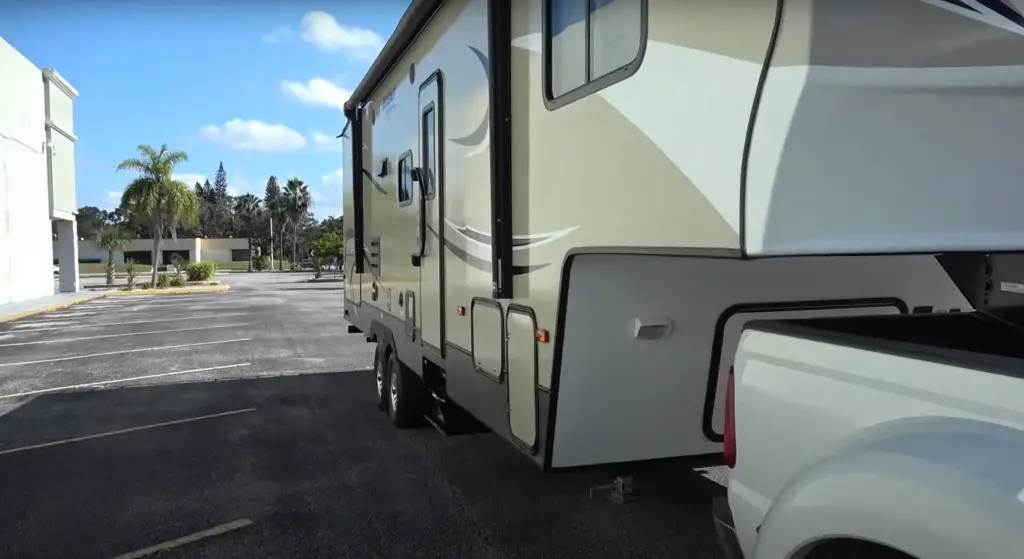 The Dos and Don'ts of Selling Your RV
Once you've decided to sell your RV, there are some do's and don'ts you should be aware of to make the process as easy and profitable as possible.
Do:
Thoroughly clean out the interior and exterior of the vehicle. Ensure all clutter is cleared from both compartments. This will help potential buyers better visualize themselves in the space while also making it look more attractive overall.
Take good quality pictures of both the interior and exterior of the vehicle to use when creating an online listing or advertising materials. It's important that your photos accurately show off your RV at its best!
Contact a reputable dealership or broker to get an accurate appraisal on what your RV is worth in its current condition. This will give you an upper hand when it comes to setting the asking price.
Consider making some necessary repairs or upgrades such as new tires, fresh paint job, and other maintenance tasks. This could also help increase the value of your RV and make it more attractive to potential buyers.
Create a detailed list of all features included with your RV including appliances, electronics, amenities, etc. It's important to provide a comprehensive list so that buyers can see exactly what they're getting for their money.
Don't:
Don't set an unrealistic asking price for your vehicle. Overpricing could lead to a longer lasting time and fewer offers from prospective buyers.
Avoid taking shortcuts when it comes to paperwork and other legalities. Make sure you have all the necessary documents ready for potential buyers such as title, registration, maintenance records, etc.
Don't skimp on advertising your RV. The more exposure you can get for a listing, the better chances of finding a buyer quickly. Utilize online classifieds, social media platforms, and any other resources at your disposal to spread the word about your RV.
Don't forget to include pictures in any online listings or print advertisements you create. Quality photos will help draw in interested buyers and make your listing stand out from the competition.
Don't be afraid to negotiate with prospective buyers if they make an offer that is below your asking price. Negotiating is a normal part of the process and can help you get the best deal for your RV. [2]
By following these do's and don'ts, you can make sure you get the most out of selling your RV and find a buyer quickly!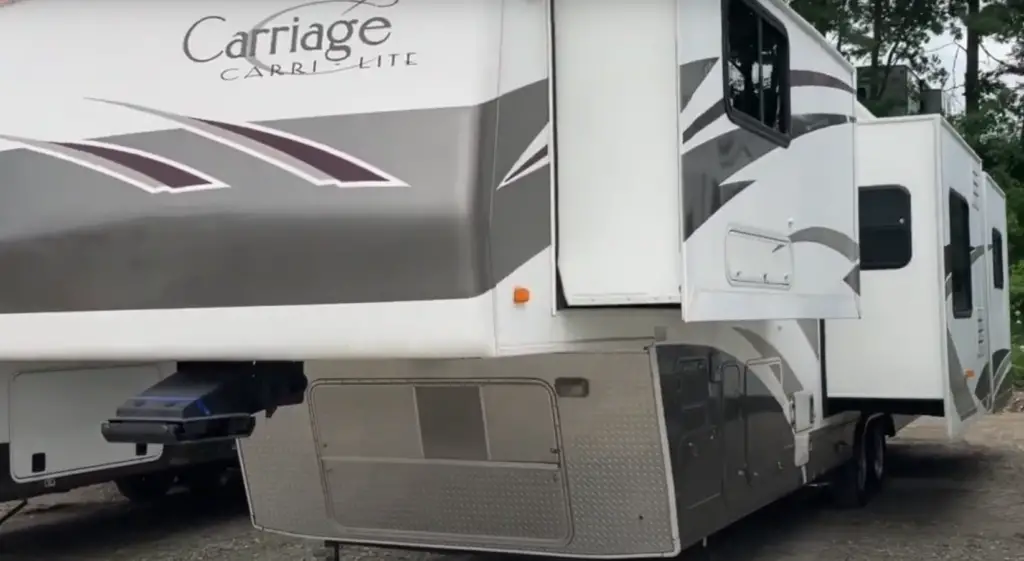 FAQ
What time of year should you sell an RV?
You may have more potential buyers browsing in the warmer months, and you might be able to get a better price since demand is higher. However, if you're selling a used RV, it can be beneficial to list it during off-peak times like late fall or winter as well. Some buyers might even be willing to pay more for an RV that's already been broken in – just make sure you get it detailed before listing! [3]
Is it worth investing in an RV?
If you're looking to invest in an RV, it's certainly worth considering. While the upfront cost may be more than purchasing a traditional car or truck, RVs offer far more space and amenities that could be useful for long trips and vacations. Not only will you have your own private bedroom, kitchen, and bathroom while on the road but you'll also have access to all of the great features offered by modern models such as satellite TV, built-in Wi-Fi, and Bluetooth technology. Plus, if you choose to rent out your RV when you're not using it yourself, there's potential for added income too!
Of course, there are other factors to consider before investing in an RV – namely cost of upkeep and insurance. Even if you don't plan to use the RV often, it's important to make sure that you have sufficient coverage in place to protect your investment. Additionally, depending on the type of RV you buy and where you live, there may be additional taxes or fees associated with ownership as well.
Overall, investing in an RV can be a great way to add more space and luxury to vacations and travels. That said, it's important that you do your research and properly weigh all of the cost factors before making any final decisions. By doing so, you'll be able to get the most out of your purchase while avoiding costly surprises down the road!
How do you monetize an RV?
When it comes to making money off of your RV, there are a few options you can consider.
First, you could rent out your RV. There are plenty of websites where you can list and advertise your RV for travelers to rent for short-term trips. This is a great option if you don't want the hassle of selling or trading in your RV.
You could also use sites like Outdoorsy to hire out your motorhome as a vanlife rental, complete with all the bells and whistles that come along with a high-end camping experience. This type of lifestyle is becoming increasingly popular, so this could be a great way to monetize your rig without needing to sell it outright.
Another way to make some money off of your RV is to take jobs delivering new or used RVs. There are companies out there that will hire you for short-term contracts and pay you to deliver vehicles across the country. This could be a great fit if you want to spend some extra time on the road and get paid at the same time.
Finally, you can always consider selling your RV outright. Depending on the condition of your rig and its market value, this could bring in a substantial amount of cash, especially if it's a high-end model or well-maintained. Be sure to research current market values so that you know what kind of price range buyers are willing to pay for an RV like yours.
How to sell an RV in Florida?
Selling an RV in Florida can be a challenging yet rewarding process. Before you start, it's important to familiarize yourself with the state's laws and regulations for selling RVs. Here are some helpful tips on getting your RV sold:
Have all paperwork ready. Make sure you have the title of ownership and registration forms ready for potential buyers to view. These documents will help prove that you are the legal owner of the vehicle and will give prospective buyers peace of mind when making their purchase.
Advertise online or in print media. An easy way to draw attention to your vehicle is by advertising online or in print media such as local newspapers or recreational magazines. You can also list the RV on sites such as Craigslist, eBay Motors, and other vehicle-related websites.
Set an asking price. Research similar models of RVs in your area to get an idea of what the market is like before setting an asking price for yours. Be realistic with your pricing and remember that you'll have to pay taxes on any money received from the sale, so factor this into your calculations.
Take good photos of your RV, inside and out. Potential buyers want to see every aspect of the vehicle before they make a purchasing decision, so make sure that all angles are included in your photos. If you can show off some extra features or upgrades you've done to the vehicle, that's even better.
Prepare to negotiate. Your asking price isn't set in stone, so be open to negotiation. Keep your expectations realistic and be prepared to come down on the price if necessary. Ready yourself for questions from potential buyers about the condition of the RV, any maintenance or repairs that have been done, and overall mileage. [4]
Selling an RV can seem daunting at first but with a little bit of knowledge and preparation you can make it a smooth process for everyone involved. Follow these tips and you'll be sure to get your recreational vehicle sold in no time!
Useful Video: 5 Things a RV Salesman Wont Tell You!
Conclusion
Now that you've seen how to sell an RV, you should be well-prepared to put your beloved vehicle on the market. Just remember to clean it up, get it appraised, list it and negotiate with potential buyers. Make sure you know where the title and registration documents are so you can transfer them once you reach an agreement. Good luck!
If selling an RV isn't your thing, there are other options available. You can donate your RV to a charity or give it away for free on sites like Craigslist or Freecycle. Whatever option you choose, just make sure that all the paperwork is handled properly and that everyone involved understands what needs to happen before making any commitments. Happy trails!
References
https://www.boundlessbakers.com/blog/how-to-sell-an-rv
https://rvshare.com/blog/the-dos-and-donts-of-selling-your-rv/
https://www.jdpower.com/rvs/shopping-guides/how-to-sell-a-travel-trailer
https://easyescapesrv.com/the-best-place-to-list-your-florida-rv-for-sale-at-no-cost/