Are you tired of constantly nagging at your jack knife sofa in your RV? Does it feel like no matter how much you adjust and fiddle with it, it just never quite gives you the comfort you deserve? Well, fret no more, because this guide has got the ultimate pro tips that will easily fix your RV jack knife sofa in no time! Say goodbye to those dreaded lumpy cushions and hello to a cozy and inviting seating area that will make every road trip a dream come true! So, grab your tools and let's dive into the world of upholstery and transformation! Get ready to recover your RV jack-knife sofa like a pro!
What is an RV Jack Knife Sofa?
An RV jack knife sofa, a commonly found furniture piece in RVs and campers, is designed for space efficiency and versatility. Typically constructed with vinyl or leather, it can be easily folded out to provide a comfortable bed-like surface for sleeping. The compact size of the sofa when not in use makes it particularly suitable for smaller living spaces, such as those found in RVs.
One recommended approach is to regularly inspect and maintain the folding mechanism, ensuring its smooth operation. Additionally, being mindful of the weight limits and not exerting excessive force when folding or unfolding the sofa can help prevent unnecessary strain on the mechanism. By taking these proactive measures, you can enjoy the benefits of a jack knife sofa in your RV without the worry of potential issues [1].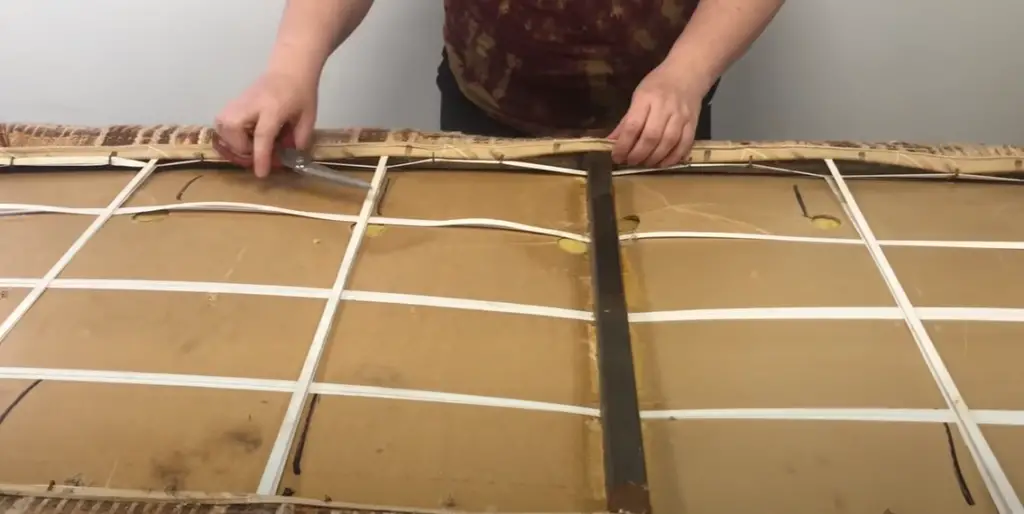 Benefits of an RV Jack Knife Sofa
RV Jack Knife Sofa can bring many benefits to your recreational vehicle. Not only do they provide more seating and sleeping space, but they are also easy to maintain and store when not in use. They can be used as a bed or for additional seating while camping, allowing you to save space and enjoy the outdoors more effectively.
Additionally, RV Jack Knife Sofas come with several design options that may suit your needs. They can be found in a variety of fabrics, colors, and sizes that can easily fit into any RV. If you are looking for something more luxurious or custom-made, some manufacturers offer special orders as well.
Finally, an RV Jack Knife Sofa is an affordable option for anyone looking to upgrade their recreational vehicle without breaking the bank. With prices starting at just a few hundred dollars, these sofas can provide you with great value for your money. Furthermore, they are easy to install and require minimal maintenance, making them an ideal choice for your RV.
If you're looking to bring some comfort and convenience into your recreational vehicle, investing in an RV Jack Knife Sofa is a great way to do it. Not only are they easy to maintain, but they provide great value for your money and can help you make the most of your RV experience. So start shopping around and find the best Jack Knife Sofa that suits your needs today!
How to Recover RV Jack Knife Sofa? Step-by-step guide
What you will need
RV or motorhome jack knife sofa
Phillips head screwdriver – to unscrew the furniture legs
Phillips head drill bit – to drill into the appropriate space for new screws
Power drill – to drive in the screws
Pliers or adjustable wrench – to remove and adjust any bolts or nuts
Socket set – to securely hold and turn fasteners
Impact driver – for more difficult, deeper fastening applications
Replacement parts – screws, bolts, nuts, washers as needed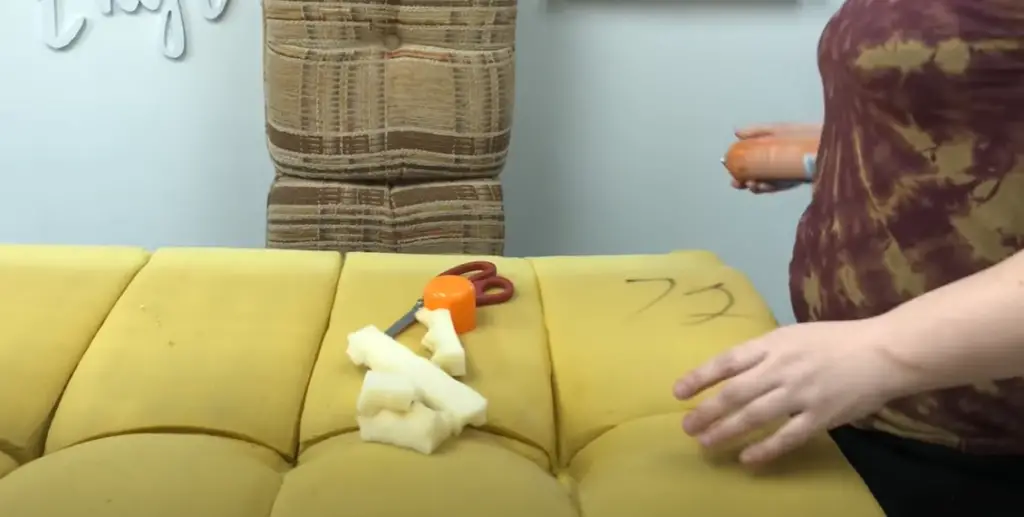 Step 1: Unscrew the Jack Knife Sofa Frame
Using a Phillips head screwdriver, carefully unscrew all the screws that are securely holding the frame of the motorhome jack knife sofa together. Take your time to ensure that each screw is fully removed, allowing for easy disassembly of the sofa frame. Once all the screws have been successfully removed, you can proceed to detach the motorhome jack knife sofa frame from its current position.
Step 2: Drill into Appropriate Space
To successfully complete this task, begin by selecting a Phillips head drill bit that matches the size of the screws you will be using. It's important to choose the right size to ensure a secure fit. Take your time to carefully align the drill with the designated spots where the new screws will be inserted. Make sure to double-check the accuracy of your markings to ensure precise placement. Before proceeding with drilling the holes, pause for a moment to reconfirm the size of your drill bit. This attention to detail will guarantee a precise and professional result.
Step 3: Secure New Screws
Once you have drilled your holes, insert the new screws and use a power drill to secure them firmly. When using a power drill, it is important to take precautions and wear protective gloves or goggles. If necessary, you can also apply some lubricant to the screws to make sure that they are securely fastened into place. Additionally, if any nuts or bolts need to be adjusted, use a pair of pliers or an adjustable wrench.
Step 4: Reassemble the Furniture Frame
Once all screws and bolts are firmly secured into place, ensuring a tight and stable connection, you can proceed to reassemble the RV jack knife sofa frame. Take your time and handle each piece with care as you carefully insert them back into their designated spots. It's crucial to double-check that everything is properly aligned to guarantee a seamless fit. Once all the pieces have been inserted, utilize a reliable socket set to securely hold and turn any fasteners that may require adjustment, providing an extra level of stability and peace of mind during your RV adventures.
Step 5: Re-attach the Sofa Frame
To complete this task, re-attach the motorhome jack knife sofa frame back to its original spot and use an impact driver for more difficult, deeper fastening applications. Make sure that everything is securely in place and properly aligned before you move on to the next step.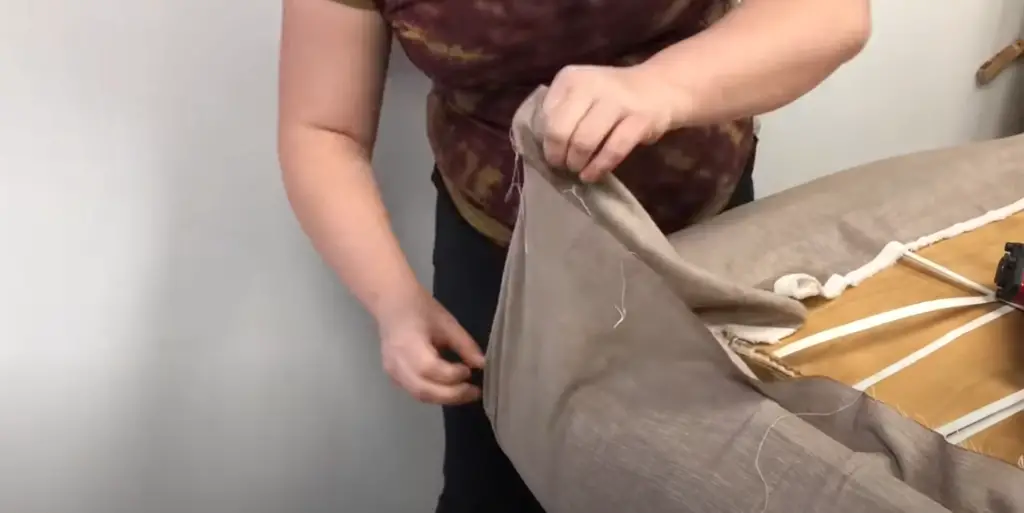 How to maintain an RV Jack Knife Sofa?
Maintaining your RV jack knife sofa is key to preserving its life and comfort. With proper care and maintenance, you can keep your jack knife sofa looking great for years to come. Here are some tips on how to maintain an RV jack knife sofa:
Vacuum the fabric of your jackknife sofa regularly to remove dirt, dust, and allergens.
Spot clean your jack knife sofa when necessary with mild detergent and a damp cloth or upholstery cleaner.
Use a leather conditioner for leather fabric, as this will help prevent cracking and fading of the material.
To avoid excessive wear on one spot, rotate the cushions regularly by switching their positions.
If you're having an issue with one of the legs, a possible fix is to reposition the leg slightly and use wood screws to keep it in place.
When storing your RV jack knife sofa, be sure that it is secure and upright to avoid sagging or damage from heavy items being placed on top of it.
For long-term storage, consider getting a fitted RV jack knife sofa cover to protect it from dust and dirt buildup.
Finally, if you experience any issue with the frame of your jackknife sofa, contact an experienced RV technician for repairs.
By following these tips, you can maintain your RV jack knife sofa in great condition and ensure its comfort and longevity.
Tips for Making the Most of Your RV Jack Knife Sofa
Now that you know how to maintain your jackknife sofa, here are some tips on how to make the most of it:
When not in use, prop up the backrest with an adjustable cushion to create a comfortable lounging position.
Use dazzling accent pillows and throw blankets to give your jackknife sofa extra flair.
Place the sofa away from windows or areas with direct sunlight, as this can cause fading of its fabric over time.
Rearrange the cushions every couple of weeks for even wear of the fabric.
If your jack knife sofa has a pull-out bed, consider getting mattress toppers and extra linens for comfort and an inviting look.
Make use of all the available storage space underneath the cushions by placing books, magazines, or other items in it.
Utilize area rugs and carpets to provide an additional layer of warmth and comfort.
Finally, add a few pieces of wall art to give your living space a finished look.
By following these suggestions, you can make the most out of your RV jackknife sofa while still keeping it in pristine condition. Have fun tinkering with the layout and design of your motorhome and enjoy the comfort of your jackknife sofa!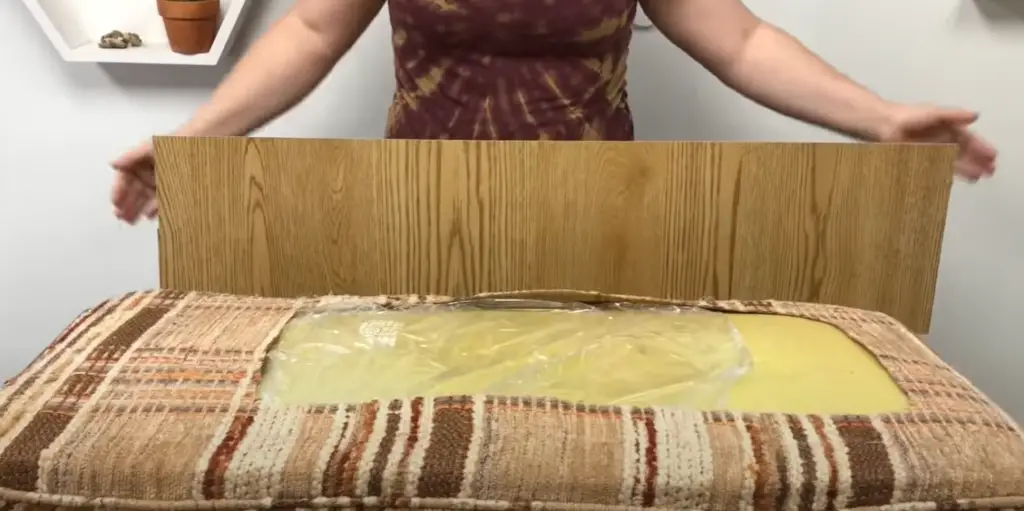 FAQ
Can you reupholster a jackknife sofa?
Yes, reupholstering jackknife sofas is possible. Several companies provide services specializing in reupholstery and furniture repair. They can help you match the existing fabric of your sofa or choose from a variety of new fabrics and materials to give your sofa an updated look. Depending on the type of material used for your sofa, they may also be able to replace the cushions and the foam, ensuring that your sofa is as comfortable as it is stylish.
What kind of materials should I use for my RV couch?
When choosing a material for your RV couch, you want to make sure that it's durable enough to withstand both everyday wear and tear and the elements — especially if the couch is going to be exposed to sun, wind, rain, and humidity. Different types of fabric have different properties that make them more suitable for certain uses than others. Sunbrella® fabrics are highly durable and resistant to fading and mildew, making them ideal for outdoor furniture; alternatively, Crypton® fabrics contain advanced stain-resistant technology that makes them perfect for family homes. Leather, vinyl, and microfiber are also great options for RV couches as they can withstand heavy use and abuse over time.
What is the best way to repair a tear in my sofa upholstery?
The appropriate method used to repair your upholstery depends on the size of the tear and its location — small tears can be patched with fabrics that match the upholstery, while larger tears may require reupholstering. To repair a tear in your sofa's upholstery, you will need to remove the fabric from the furniture frame and apply a patching material or adhesive tape to cover the tear. Once this is done, you can then reattach the new fabric to the frame and your sofa will look as good as new. If the tear is particularly large, it may be easier to have a professional furniture repair person do the work for you.
Can I replace parts of my RV couch?
Yes, replacing parts of an RV couch is possible. Depending on what needs to be replaced, you can purchase new cushion covers, foam inserts, or even a new frame to give your couch a fresh look. Some companies specialize in RV furniture repair and can help you select the right parts for your sofa. Additionally, some fabric stores may be able to order customized fabrics that match the design of your RV couch so that you can have it reupholstered with updated materials.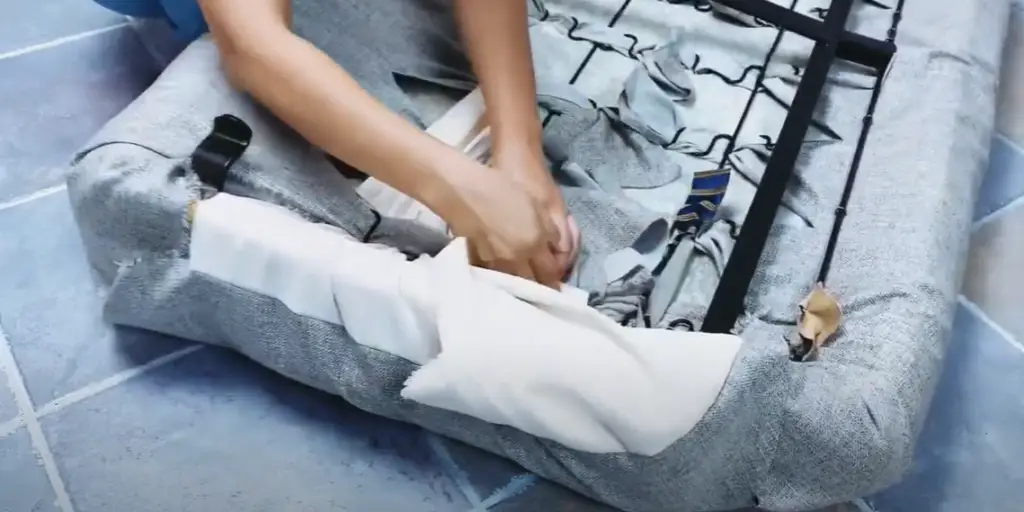 How do you remove an RV jackknife from a couch?
Removing an RV jack-knife from a couch is relatively simple. First, you will need to locate the locking pin that holds the jack-knife in place by pulling back the sofa cushions and looking at the underside of the mechanism. Once this is done, you can then use a flathead screwdriver to loosen and remove the locking pin, allowing you to slide the jackknife out from the couch. If necessary, some companies may be able to provide you with a new locking mechanism for your RV sofa.
Are there any tips that can help me keep my RV sofa in good shape?
Yes, there are several ways to keep your RV sofa looking and feeling great. For starters, make sure to use a lint brush on the fabric every few weeks to remove any dust or dirt that may have accumulated. Additionally, you should try to vacuum or clean your sofa cushions regularly to keep them looking new. Finally, it's important to use appropriate furniture covers when not in use to protect the material from sun and moisture damage. Following these tips will help ensure that your RV sofa looks great for many years to come.
What is the most comfortable fabric for an RV couch?
The type of material you choose for your RV couch will depend on several factors, including the amount of use it will get and where it will be located in the vehicle. Generally speaking, softer fabrics such as microfiber and velvet are the most comfortable options. For a more durable material, you may want to look into Crypton® fabrics or Sunbrella® fabrics, which offer superior protection against fading, mildew, and stains. Ultimately, the best fabric for your RV couch will depend on your personal needs and preferences.
Are there any tips for choosing the right RV sofa?
Yes, there are several tips you should keep in mind when selecting an RV sofa. Firstly, make sure to measure your space before purchasing so that you know exactly what size and style of sofa will fit comfortably in your vehicle. Secondly, consider the type of fabric you want — softer materials such as microfiber and velvet may be more comfortable, but they don't hold up as well to wear and tear; alternatively, tougher fabrics such as Crypton® or Sunbrella® are more durable but may not be as comfortable. Finally, if you plan on having your sofa exposed to the elements — such as sun, wind, rain, and humidity — make sure to choose a material that can stand up to the elements. By considering these tips, you can make sure that your RV sofa is both stylish and comfortable.
Useful Video: Extreme Camper Makeover | Jackknife Couch Reupholster | Episode 30
Conclusion Paragraph
To recover an RV Jack Knife sofa, fixing the common wear and tear issues is essential. Fortunately, these repairs are usually quick and easy to do with basic tools. With some patience and effort, your RV sofa can be brought back to its former glory in no time. Whether you need to replace a broken spring or reinforce loose cushion support, you'll be glad that you took the time to fix these minor RV sofa problems. It's important to take care of the furniture in your RV, both for style and comfort. With a bit of maintenance and repair work, your RV Jack Knife sofa will stay looking great and feeling comfortable for many miles.
References:
https://enjoytravellife.com/make-jack-knife-rv-sofa-comfortable/
https://www.rvlibary.com/how-to-recover-rv-jack-knife-sofa/