When it comes to How to Decorate an RV, there are a few things you need to keep in mind. First, think about how you want to use the space. Do you want to make it your home away from home? Or do you just need a place to sleep and store your belongings? Once you know what you're working with, you can start thinking about the style and functionality of your space. In this article, we'll give you 10 tips for creating a stylish and functional RV interior!
RV Decorating Ideas
When it comes to decorating your RV, the possibilities are endless. You can go from adding a few personal touches here and there all the way to creating an entirely new interior design for your home on wheels. Here are some of our favorite RV decorating ideas and tips:
Create a warm atmosphere with cozy rugs and blankets –RV living may mean that you don't have much space, but that doesn't mean you can't create a cozy atmosphere! Soft throw blankets in neutral colors or fun patterns can add texture and color to any room while helping you stay comfortable. Rugs in complementary colors will help tie the look together, too.
Bring nature indoors –Trees and plants can help bring the great outdoors into your RV. Choose small varieties that don't require too much light or water, and place them in strategic locations to add a bit of life to your interior space.
Choose flexible furniture –Since you'll be constantly moving around, it's important to choose pieces of furniture that are lightweight and easy to move. Look for stackable chairs and tables that can be stored away when not in use, as well as collapsible sofas and beds that won't take up too much room.
Personalize with artwork –Show off your style by adding framed photos and art prints throughout the RV. Choose pieces that reflect your personality or match the colors of your walls and furniture for a cohesive look.
Light it up –Proper lighting can make all the difference in your RV's interior design. Choose from wall sconces, track lighting, or mood lighting to create an inviting atmosphere that is both functional and aesthetically pleasing.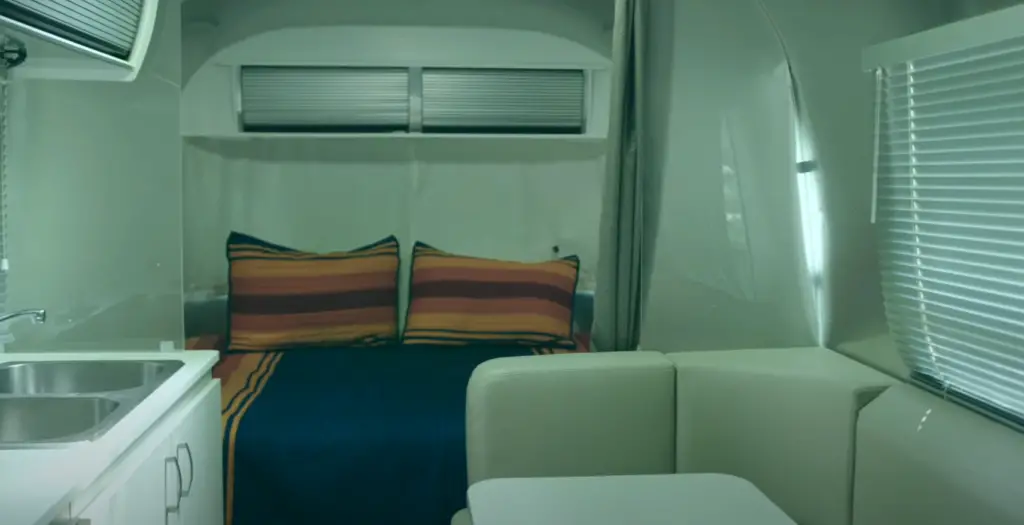 Go with a Theme
Creating a theme for your RV can be a fun project! Whether you're into beachy, boho, or country vibes, there are plenty of ways to bring your vision to life. Start by choosing colors and patterns that fit the theme – these will serve as the foundation for the rest of your decor. With each piece of furniture and accessory, ask yourself if it fits the overall theme. If not, consider replacing it with something that does. You can also look for decorative items like pillows, curtains, and wall hangings that fit the aesthetic to really pull the design together.
Add a Splash of Color
Bright colors can instantly transform the look and feel of an RV interior. Choose a few pops of vibrant hues to draw attention to certain features. For example, you might paint the cabinets or install colored tiles in the kitchen area, add bright throw pillows to your couch, or hang a brightly-patterned rug on the wall. With color, it's all about finding the right balance – too much will be overwhelming and distracting. Just remember: it's easy to start small and then adjust as needed!
Hang Some Decor
Add a personal touch to your RV by hanging decorations on the walls. Most RVs come with pre-drilled holes, so you don't even need tools! Consider installing shelves and placing small items like picture frames, art prints, and plants on them for an eye-catching display. You can also hang strings of LED lights or bunting flags for some extra charm.
Show Off Souvenirs
Your RV is a great place to display souvenirs and mementos from your travels. For example, you could hang a map of all the places you've been on the wall, or put framed photos from fun vacations in different spots around the RV. You can also showcase unique items like rocks and shells that you found along the way – just make sure they're not too heavy for your walls!
Spruce Up the Bathroom
The bathroom is an often overlooked space when it comes to decorating, but it doesn't have to be. Hang wicker baskets on the walls to store toiletries and towels, or install a colorful shower curtain for a bit of pattern. You could also display small plants in the windowsill for a touch of life. Finally, don't forget about accessories like rugs and countertop organizers – these can help make the area look more finished.
Change Up the Bedroom
The bedroom is a great place to express your personal style. Choose colorful sheets and blankets that fit the theme, or dress up plain walls with wall art. You might also consider adding a headboard or canopy for some extra drama. Finally, don't forget about lighting – you want enough for nighttime reading but not too much so it doesn't interfere with sleep.
Switch Window Treatments
Change up the look of your windows with different curtains or shades. You could opt for blackout curtains to keep out the light, or choose sheer panels that let in some sun but also provide privacy.
Turn On Some Lights
Don't forget about the lighting! Lighting can make a surprisingly big difference in the look and feel of an RV. Add some lamps for cozier lighting, or install LED lights under the cabinets to create a fun glow. You could also hang strings of fairy lights around the perimeter of your RV for extra charm.
Change the Furniture
If your RV is looking a bit dated, consider replacing some of the furniture. Choose pieces that fit the theme and are on the smaller side to make sure they'll fit in the space. Think outside the box – you could use benches as coffee tables or stack different chairs together for a unique look.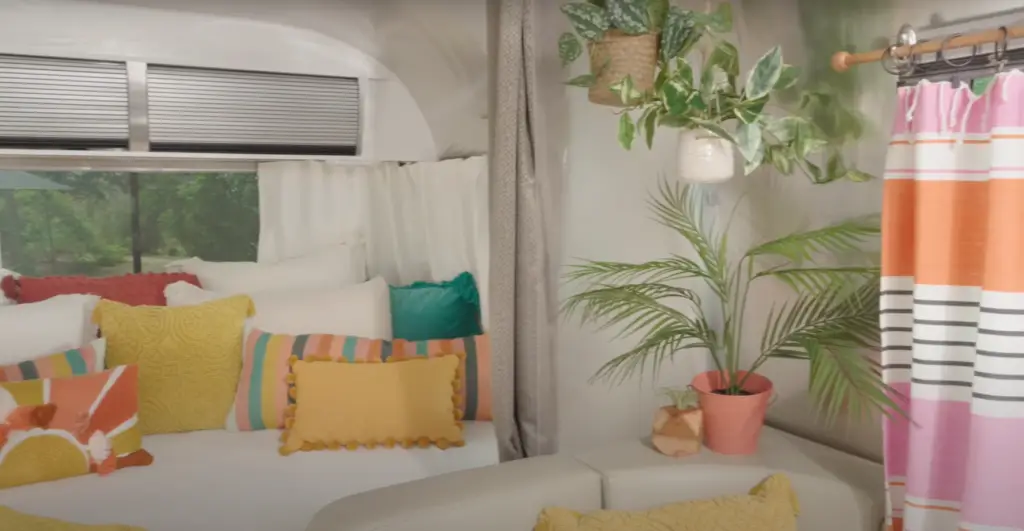 Deck the Walls
Make your RV a place of art with paintings, drawings, and photographs. You could hang them in an organized grid or in random spots around the RV, depending on what you prefer. If you're feeling crafty, create your own wall art with fabric panels or paper collages.
Replace Old Light Fixtures
Change up the look of your RV with new light fixtures and hardware. Choose something that fits the theme, like a wrought iron chandelier or vintage-style sconces. This is an easy way to give your RV a facelift without spending too much money.
Use Accent Lights
Accent lighting can add a soft, inviting touch to your RV. Place battery-powered LED lights in spots like under the cabinets or inside storage compartments. You could also use string lights around the windows for extra charm. [1]
RV Kitchen Decorating Ideas
Are you wondering how to give your RV kitchen a fresh new look? There are endless possibilities when it comes to decorating your tiny kitchen space. Here are some popular ideas and tips on how to make the most of it:
Mirrors: The first step is to add mirrors in the right places. Mirrors can create the illusion of more space in the RV, as well as reflect light around the room. Try hanging a full-length mirror near the door or one that's shaped like an arrow above the sink for added character.
Cabinets and shelves: Open shelving and cabinetry are perfect for organizing items so you don't have clutter everywhere. You could also add some metal baskets to the shelves to hold smaller items.
Wall treatments: Wallpaper is a great way to add color and pattern in the kitchen. Choose something bold or bright to give your space more personality, like a fun geometric print or even a chalkboard wall for jotting down grocery lists!
Artwork: Hang up some art on the walls so that people can look at it while they're eating. Choose something that speaks to you and gives your RV kitchen a personal touch.
Seating: Don't forget about seating! If you don't have enough room for chairs, try using stools or benches instead. Just make sure they can fit comfortably under the table when not in use.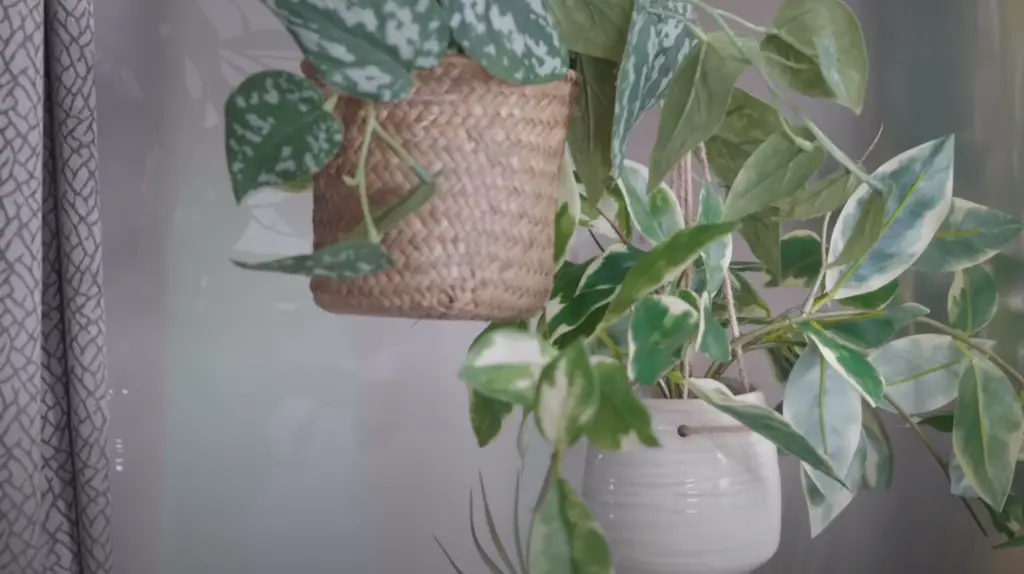 Add a Backsplash
Adding a tile backsplash is one of the best ways to spruce up your RV kitchen. Not only does it look great, but it also adds an extra layer of protection from spills and splashes. Choose something that matches the style of your RV and get creative with the design. You could even pick out different colored tiles to create a unique pattern. If you're not sure how to install it yourself, there are plenty of tutorials online or you can hire a professional to do it for you.
Change Cabinet and Drawer Knobs
Small decorating changes can make a big impact on your RV kitchen.
RV Living Area Decorating Ideas
When it comes to decorating your RV living area, there are plenty of options that can make the space feel comfortable and homey. Consider adding items like throw pillows, rugs, wall art, or even a few cozy blankets. These simple decorations will add color and personality to your RV while also making it more inviting. You may also want to consider adding some extra lighting such as wall sconces or a lamp for nighttime reading.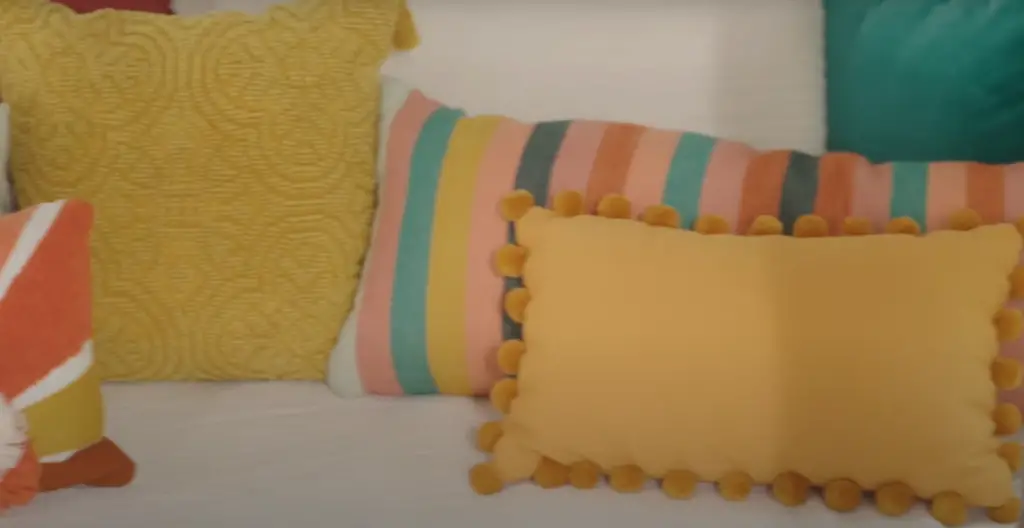 If you're feeling crafty, you could put together some DIY projects with varying levels of difficulty depending on how ambitious you're feeling. For instance, you could try repurposing an old pallet into shelves or a coffee table to store books, games, and other items. Or, you could try creating a colorful wall mural to add some character and personality to your RV.
You can also take advantage of the natural light in your RV by creating an indoor garden with potted plants or hanging baskets. This is especially useful during winter months when spending time outdoors isn't always feasible. Adding some greenery will help bring life into the space and is sure to make it feel brighter and more inviting.
Here are some tips on how to make it look cozy and inviting:
Choose a color palette: If you want to create an overall theme or feel in the living area, then choosing a coordinating color scheme is essential.
Add throw pillows and blankets: Throw pillows and blankets are great for adding texture and comfort to the space. Plus, they're easy to switch out when you want something new.
Hang curtains: Curtains can help to soften up a space and add visual interest too. You could even hang them from ceiling hooks so that they drape down over the windows for added drama.
Get creative with lighting: Lighting can make a huge difference in the look and feel of any room. Try using string lights, candles, or even hanging pendant lamps from the ceiling for a unique touch.
Cover the Couch and Dinette Seats
You'll want to cover your couch and dinette seats with slipcovers or cushions in coordinating colors to ensure that the entire look comes together. This is an easy way to make a big impact and will also help keep the fabric on your furniture looking fresh. If you have kids, get some washable covers so they can be regularly cleaned when necessary.
Throw Down a Rug
Rugs are a great way to add some color and texture to your living area. Plus, they can keep dirt from getting tracked through the space and help insulate it during cold months. They also come in various sizes so you can find one that fits your RV perfectly.
RV Bedroom Decorating Ideas
When decorating your RV bedroom, keep comfort and functionality in mind. You might not have the same amount of space as a standard bedroom, but you can still create a cozy atmosphere.
To make the most of your space, choose flexible furniture like a Murphy bed or futon that can be folded up when not in use. Built-in shelves are also great for keeping clothes and other items organized.
For wall décor, consider using peel-and-stick wallpaper to brighten up the room without any major renovations. Hang art prints or framed photos on the walls to give it a more homey feel. Or add some color with removable patterned decals on the ceiling or walls.
Change the Bedspread
An easy way to give your RV bedroom a fresh look is to change the bedspread. Choose one in a color or pattern that complements the rest of your décor. Soft, lightweight materials like cotton and linen are perfect for warmer weather, while flannel and velvet are better options for cold winter nights.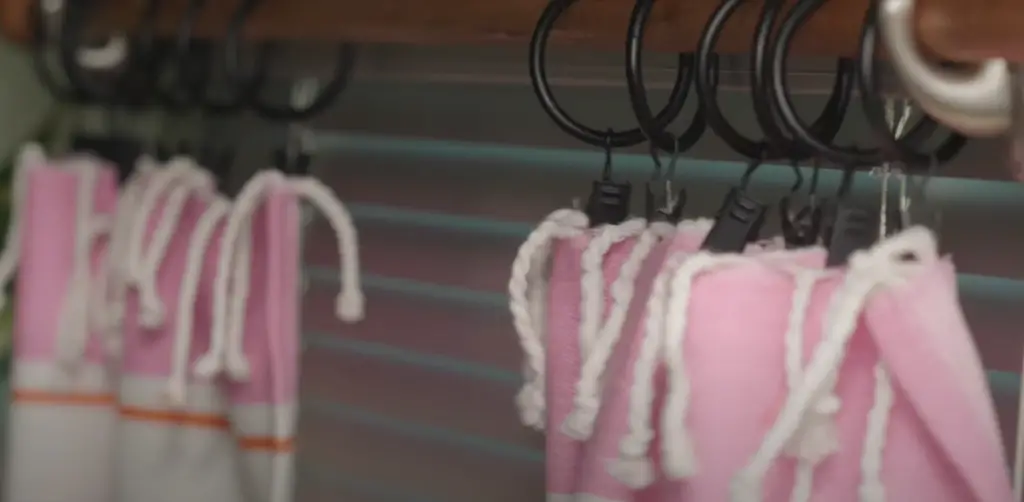 Add a Headboard
If you don't have a headboard, consider adding one to your RV bedroom. It's an easy way to make it look more like a typical bedroom and can also be used as extra storage space for books or other items. If you want something with character, try making a DIY headboard out of recycled materials like old shutters, window frames or doors.
Switch the Bed Curtain
You can also change up the look of your RV bedroom by switching out the bed curtain. Think about the mood you want to create and choose curtains in a color or pattern that will help you achieve that goal.
RV Bathroom Decor
RV bathrooms don't usually have much space, so it's important to focus on functional pieces. Shower curtains are a great way to add color and personality, while also providing privacy. To make the most of your small space, look for space-saving items like a shower caddy and a towel rack that can be folded when not in use. Wall shelves with baskets or bins can easily store toiletries and cleaning supplies. Adding wall art or decals is another easy way to inject color into an otherwise utilitarian room. And don't forget about lighting; wall sconces provide extra illumination for grooming tasks without taking up valuable countertop real estate.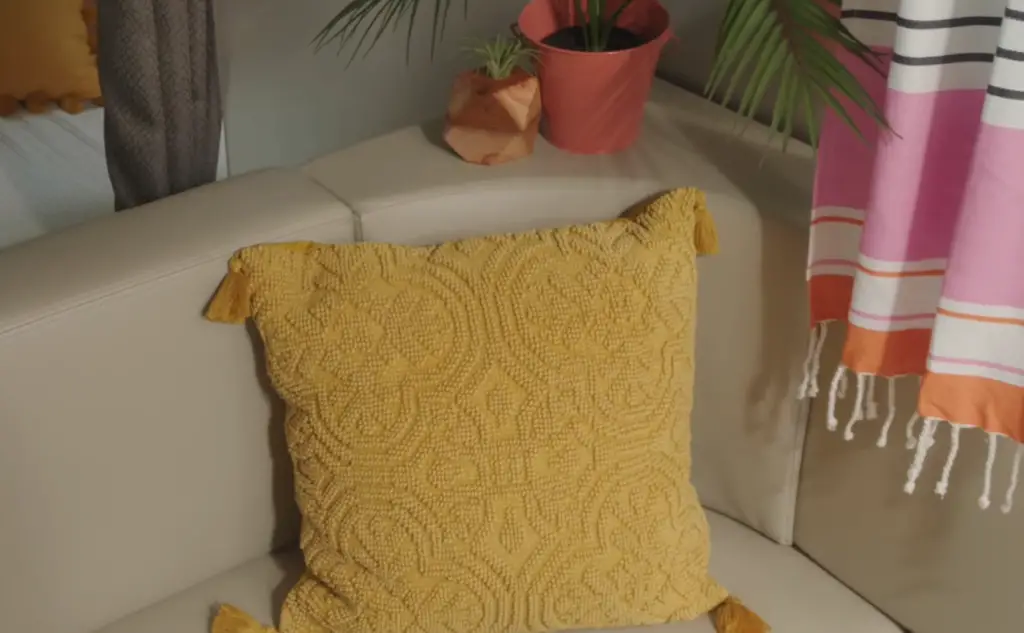 To really spruce up the RV bathroom, consider adding accents like a rug, bathmat or a simple potted plant. All these small touches can make your bathroom feel more homey and inviting. When choosing colors for this space, opt for neutrals that will match the rest of the RV's decor. In terms of materials, choose things that are easy to clean such as vinyl flooring and plastic wall panels. Keep in mind that because you're dealing with limited real estate, your design choices should be both functional and visually appealing.
Change the Shower Curtain
Replacing the shower curtain is one of the easiest, most budget-friendly ways to spruce up your RV's bathroom. Look for a fun pattern that reflects your style and personality. Don't be afraid to mix and match colors; two or three different hues can help create visual interest and add dimension to the space. If you prefer a more pared down look, opt for an all-white shower curtain with simple details like stripes or polka dots. [2]
When it comes to fabric choice, go with something that is waterproof, mildew resistant, and easy to clean such as cotton/polyester blend or vinyl. To make sure your new curtain looks its best over time, consider investing in a liner along with the curtain. This will help protect the curtain from moisture and dirt, prolonging its life.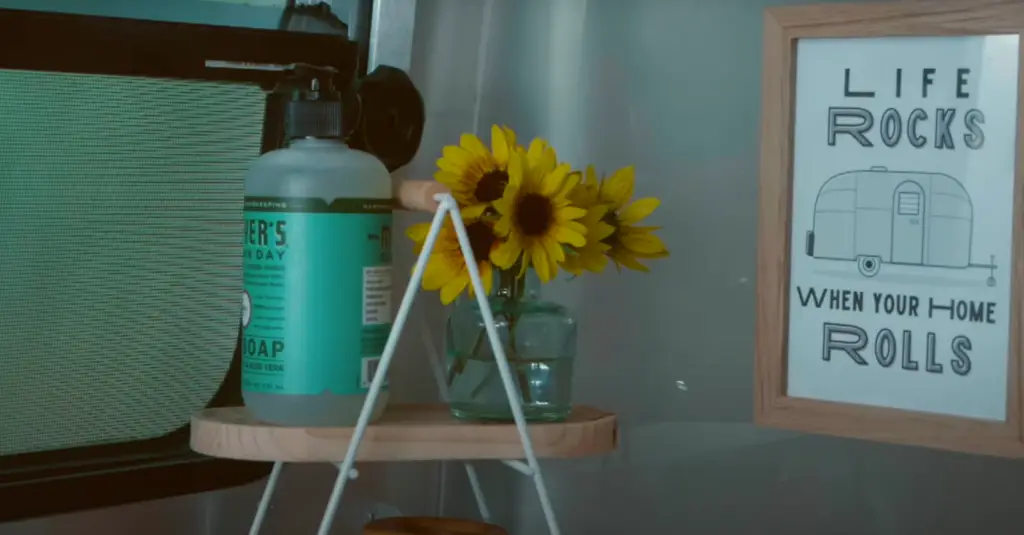 Add a Backsplash
Adding a backsplash to your RV bathroom is an easy way to make the space look more polished and modern. It can also help protect walls from water damage, making it especially useful around sinks or behind showers. Look for materials that are waterproof and easy to clean such as tile, stone, or glass. To make installation easier, consider using peel-and-stick tiles which are very user friendly and don't require grouting. Choose colors and patterns that will complement the rest of the bathroom's decor; simple white subway tile is always a classic choice.
FAQ
How can I decorate my RV inside?
Decorating the inside of an RV is a great way to make it feel like home. You may want to start by considering a color palette that fits your taste and style. Try to stick with light-colored hues since they make small spaces look larger and brighter. Additionally, choose furniture pieces that are lightweight and can easily be moved, as well as storage solutions like shelves or baskets that don't take up too much space.
When you're ready to begin decorating, try hanging some art on the walls for a personal touch — photos or paintings in frames work well here. Then add curtains or drapes in complementary shades for privacy and extra visual interest. Finally, select comfy throw pillows and blankets to add texture, color, and warmth.
How to customize your RV?
If you have the time and inclination, there are many customizable options for your RV. You can paint it, add decals or graphics, use wallpaper, install more efficient lighting, upgrade furniture and appliances, and even add awnings to extend your living space.
Painting is a great way to give your RV an instant facelift. As long as you use appropriate paints designed specifically for RVs (which should be available at any home improvement store), you should be able to handle the job yourself with minimal cost. Choose colors that reflect your personality or preferences – whether it's bold primary colors or something more muted or earthy.
Adding graphic decals is another popular option for customizing an RV's exterior. You can find a variety of designs from cartoon characters to scenic landscapes and more. Decals are inexpensive and easy to apply, so you can add as many or as few as you like.
Wallpaper is another great way to give your RV's interior a custom look. Of course, you want to be sure the wallpaper you choose is suited for use in an RV, but there are plenty of durable options available that will last for years without fading or peeling.
Installing energy-efficient lighting fixtures is one of the most cost effective ways to customize your RV on the inside. LEDs tend to produce less heat than traditional bulbs and they also help reduce electricity usage, making them both efficient and environmentally friendly.
If you want to upgrade your RV's furniture and appliances, there are a few options. You can buy new pieces or refurbish old ones. If you choose the latter route, make sure to clean each piece thoroughly before applying any stain or paint; doing this could help extend the life of your furniture and appliances. [3]
Finally, adding an awning is another great way to customize your RV living space. Awnings come in all kinds of sizes and styles, so you can find one that perfectly fits your needs. They also provide some relief from the sun on hot days and offer additional shade for outdoor activities like barbecues or camping trips.
How can I decorate my RV outside?
Decorating the outside of your RV can help it stand out and look like a home away from home. Depending on the size of your outdoor space, there are several ways to spruce up the look.
Ideas for decorating the outside include:
Adding flags or banners to show off your style.
Hanging colorful string lights around the edges of your RV.
Planting flowers in pots around the sides or front of your vehicle.
Installing solar lighting along walkways or steps leading into your RV.
Painting a mural on one side of your RV with a scene that you find inspiring. [4]
No matter what you choose to do, make sure you are using materials that can withstand travel and the elements. An RV is a unique space and it deserves to be decorated with care!
Useful Video: Make Your RV Feel At Home With These Decor Hacks & Designs | RV Camper Makeover
Conclusion
In the end, decorating your RV is all about making it feel like home. There are no rules and restrictions on what you can do, so get creative! Have fun and make sure to take your time when decorating. Not only will this give you a chance to experiment with colors, patterns, and design elements that you love but it'll also help keep costs down. If budget is an issue, shop around for deals or simply use what you already have in storage — sometimes all that's needed to bring a space back to life is a coat of paint or some new pillows! Ultimately, just remember not to rush the process; enjoy experimenting and find ways to personalize your RV through decoration.
Happy decorating!
References
https://rvshare.com/blog/rv-decorating-ideas/
https://www.fulltimefamilies.com/rv-decor/
https://www.campjellystone.com/5-easy-ways-to-personalize-your-rv/
https://veravise.com/outside-camper-decorating-ideas/