Whether it's a quick weekend getaway or a cross-country adventure, making your RV feel like home is key to having the best experience. But how can you make your RV porch feel cozy without sacrificing style and convenience? With these adorable RV porch ideas, you can create your dream outdoor getaway that'll have friends and family envious of the time they spend with you! From deck upgrades to bright flower boxes, these RV porch ideas will have your recreational vehicle looking inviting and stylish in no time.
Benefits of Having an RV Porch
A Higher Resale Price for Your RV or Lot
An RV porch can significantly increase the resale value of an RV or a lot. It can also be useful for buyers looking to add living space to their existing homes. Having a porch on your RV gives it an added dimension that allows you to enjoy outdoor activities without leaving the comfort of your own home. The extra room provides extra storage space and can be used for entertaining, relaxing, or even as sleeping quarters if needed.
A More Enjoyable Outdoor Experience
RV porches are perfect for hosting small get-togethers outside or just enjoying the outdoors with friends and family. Porches provide better protection from wind and rain than tents, which makes them ideal for camping trips during any season. They also give you more space to store and organize your outdoor furniture, equipment, and other supplies.
Additional Security
Having an RV porch increases security for anyone living in or near the RV by providing a barrier between you and potential intruders. The extra layer of protection can give added peace of mind when it comes to storing recreational vehicles on private property or open lots. Additionally, having a secure place to lock up valuables such as bikes or boats can help prevent theft.
Keep Your RV Much Cleaner
An RV porch helps keep the inside of your recreational vehicle much cleaner since it provides an extra barrier between outdoor elements, such as dirt and dust, and your living space. This can help reduce allergens in the air and keep interiors looking like new for longer periods. The added coverage also helps protect indoor furniture from sun damage due to prolonged exposure.
More Usable Space
Having a porch on an RV or lot gives you more usable space for entertaining, relaxing, or storage. It also allows you to enjoy outdoor activities without having to leave your own home. Porches are perfect for hosting small get-togethers outside and provide better protection from wind and rain than tents. They also give you extra room to store recreational items such as bikes or boats in a secure place.
They're Great for Sightseeing
RV porches are perfect for sightseeing, especially when you don't want to leave the comfort of your RV. An RV porch provides a great vantage point and allows you to take in more scenery while still being close to home. It also gives you a place to set up chairs or even a table so you can enjoy the view without having to worry about feeling cramped inside the RV [1].
What Are the Most Popular Types of RV Porches?
The most popular types of RV porches are screened-in, awning-covered, and wrap-around.
Screened-in porches provide extra protection from insects, while also providing some ventilation to the interior. They feature a variety of screen materials and mesh sizes that can be chosen to meet your needs. Typically they are installed using aluminum frames and have a durable finish for long-lasting use.
Wrap-around porches offer maximum coverage and protection from the elements and feature a roof that wraps around the sides of your RV. They can be customized with a variety of materials such as aluminum, steel, wood, or fiberglass to provide long-lasting protection.
No matter which type of porch you choose for your RV, make sure you're aware of any building codes in your area so that you adhere to them during installation. With proper planning and maintenance, your new porch will provide years of enjoyment [1]!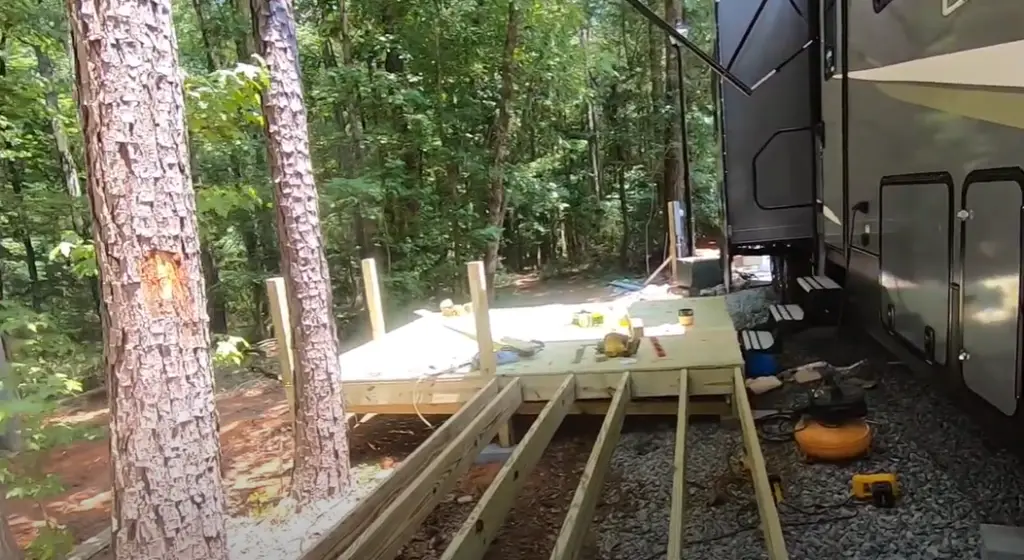 Seasonal Campsite Deck Ideas
RV Covered Deck Plans
A covered deck for your RV is an ideal way to add comfort and convenience to camping trips. With a covered deck, you can keep yourself protected from the sun or rain while still enjoying the outdoors. Plus, it adds a touch of home-away-from-home feel to any campsite. Covered decks come in many different styles and sizes, depending on your preference and budget. Some popular choices are:
Prefabricated aluminum carport with screened walls – This type of portable deck offers easy installation with minimal effort and provides shelter from the elements without obstructing views.
Wooden platform – Constructing a wooden platform is a more affordable option that has the added benefit of providing additional storage space underneath the deck.
Gazebo – A gazebo is a great way to add an elegant touch to any campsite and provides a great space for outdoor dining or gathering.
Canopy with walls – This type of canopy offers protection from the elements while still allowing you to enjoy the outdoors, but it doesn't provide as much privacy as other deck options.
RV Deck On Wheels
For those who are looking for a more mobile option, RV decks on wheels provide the perfect solution. These decks are easy to move around and come in various sizes and shapes. They can be easily stored when not in use, making them great for seasonal camping trips. Popular choices include:
Teardrop trailer – A teardrop trailer deck offers plenty of storage space underneath for all your gear while still giving you plenty of room to relax and enjoy the outdoors.
Pop-up camper – Pop-up campers provide a large amount of shelter from the elements while also being lightweight and easy to tow.
Folding travel trailer – A folding travel trailer is an ideal choice for those looking for an affordable option that can be easily set up and taken down.
Tent trailer – Tent trailers provide a more permanent solution for camping and are great for large families or groups, as they offer plenty of space to spread out.
No matter which type of deck you choose, make sure to check with your local campground or RV park before installing it to ensure that it meets all their rules and regulations. Enjoying the outdoors is one of the best parts of camping, so make sure you have the right equipment to make your experience even better!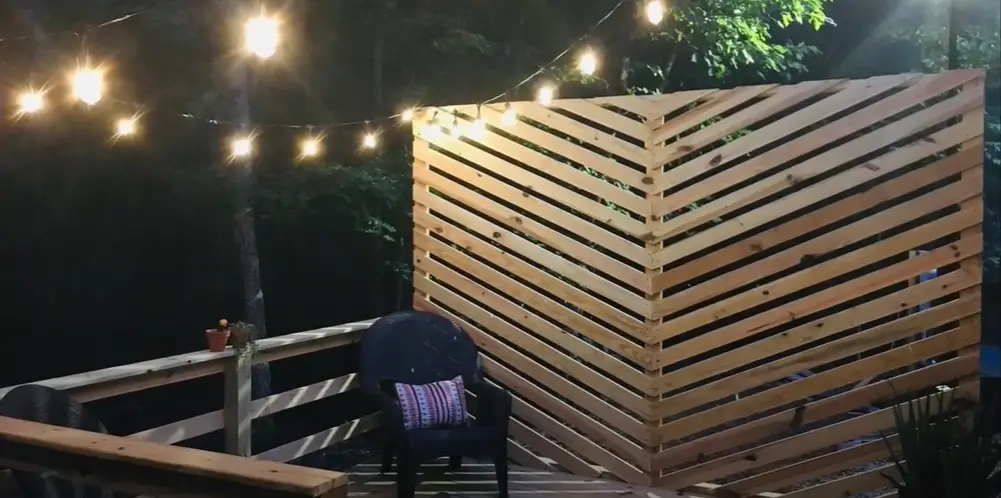 RV Deck With Ramp
For those with mobility impairments, having a deck with a ramp is the ideal way to make camping more accessible. Ramps are generally built out of wood or aluminum and can be customized to fit any configuration. They come in various widths and lengths, so it's important to measure your RV before purchasing one. Some popular ramps include:
Folding ramps – These ramps fold up for easy storage when not in use and can accommodate wheelchairs, scooters, and other mobility devices.
Telescoping ramps – Telescoping ramps provide maximum versatility as they can be extended or retracted depending on the situation.
Threshold ramp – A threshold ramp allows you to transition from the deck onto the ground without any obstructions.
Wheelchair lift – For those who need a little extra help getting up and down, a wheelchair lift is the perfect solution.
A deck with a ramp provides a safe and comfortable way to enjoy camping trips while still making sure everyone can access the outdoors. Make sure you research your options carefully before deciding which one is best for your needs.
Outdoor Deck Furniture
Camping trips are all about enjoying the great outdoors, so why not make it as comfortable as possible? With outdoor deck furniture, you can create an inviting atmosphere for friends and family that will be sure to make every camping trip even more enjoyable. Popular outdoor deck furniture choices include:
Patio chairs lounge chairs – Relaxing in a comfortable chair is one of the best ways to take in the beauty of nature.
Table chairs – Gather around an outdoor table and enjoy a home-cooked meal with friends and family.
Hammocks swings – Enjoy a peaceful afternoon swaying in the breeze or curl up for a nap in your very own hammock.
Fire pits grills – Nothing beats roasting marshmallows around a crackling fire on a cool night, or cooking up some burgers over an open flame.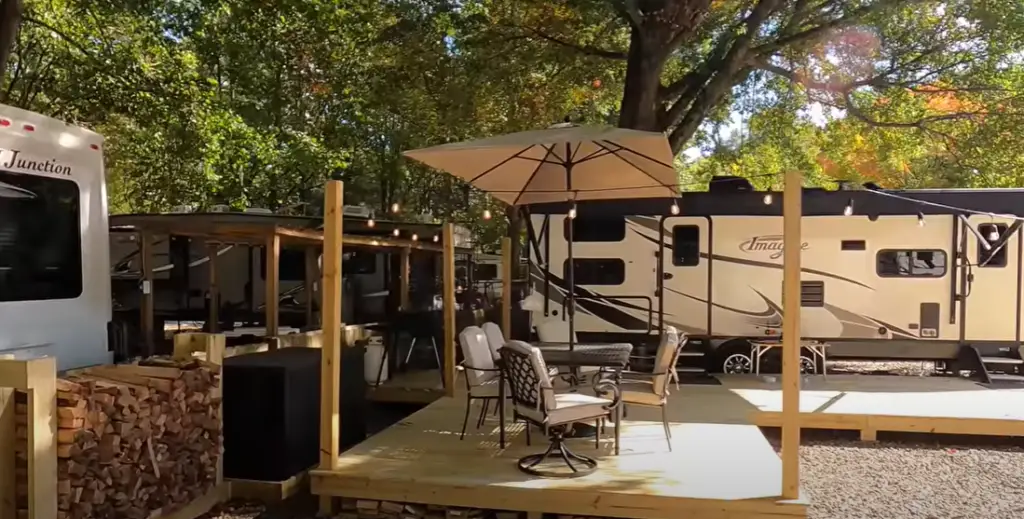 RV Decks And Stairs
If you plan on spending a lot of time at your campsite, having RV decks and stairs is the perfect way to create an outdoor space that's both safe and comfortable. There are many different types of RV decks available, including:
Prefabricated kits – These kits come with all the necessary components for easy assembly and installation.
Custom-made decks – If you want something more unique, a custom-made deck will allow you to choose exactly what type of materials and designs best suit your needs.
Convertible stairs – These stairs can be used as either steps or ramps depending on your preference.
Regardless of which type of deck or stair system you choose, make sure to check with your local campground before installation to ensure that it meets all their safety requirements. With the right RV decks and stairs, you can transform any campsite into a home away from home [2]!
How Much Does It Cost To Build An RV Deck?
The cost of building an RV deck varies greatly depending on the size, materials used, and complexity of the design. Generally speaking, the cost to build a simple 4′ x 8′ platform with basic railings and steps can range between $1,200 and $3,000. For more advanced designs that include custom features such as curved stairs or built-in seating areas, costs can exceed $5,000. It's important to factor in additional expenses like permits (if required) and labor when calculating your total budget for an RV deck project.
Additionally, many factors such as location and climate conditions can affect pricing significantly so be sure to shop around for estimates from local contractors before making any decisions. With careful planning and preparation, you can ensure that your RV deck project stays within budget and looks great for years to come.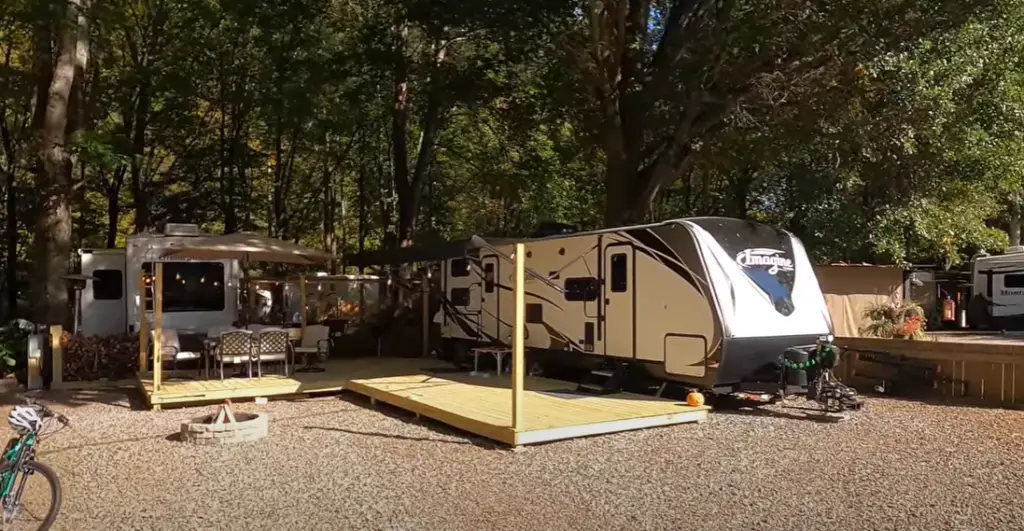 How to clean an RV deck?
Cleaning an RV deck is not a complicated process, but it does take some time and effort to get the job done right. Several steps should be taken to ensure proper cleaning of your RV deck.
First, you'll need to gather the necessary cleaning materials such as dish soap, warm water, a soft-bristle brush or scrub brush, and a hose or pressure washer. Make sure that all of these items are safe for use on your particular RV model.
Once you have gathered all of the necessary items, start by prepping and rinsing the deck with your hose or pressure washer. This will help remove any built-up dirt and debris on the surface before you begin scrubbing.
Next, make a soapy solution using your dish soap and warm water and apply it to the deck using either a soft-bristle brush or a scrubbing brush. Work in small sections, making sure to cover all areas of the deck with the soapy solution.
It may be necessary to repeat this process multiple times for heavily stained or built-up dirt and debris. Additionally, if you are dealing with mold or mildew growth on your RV's deck, you may need to use a specialized cleaner or chemical.
After your deck is completely clean, be sure to protect it with a coat of sealant or wax. This will help protect the surface from further damage and staining caused by water, dirt, and other elements. With these steps, you can easily keep your RV's deck clean and well-maintained for years to come [3]!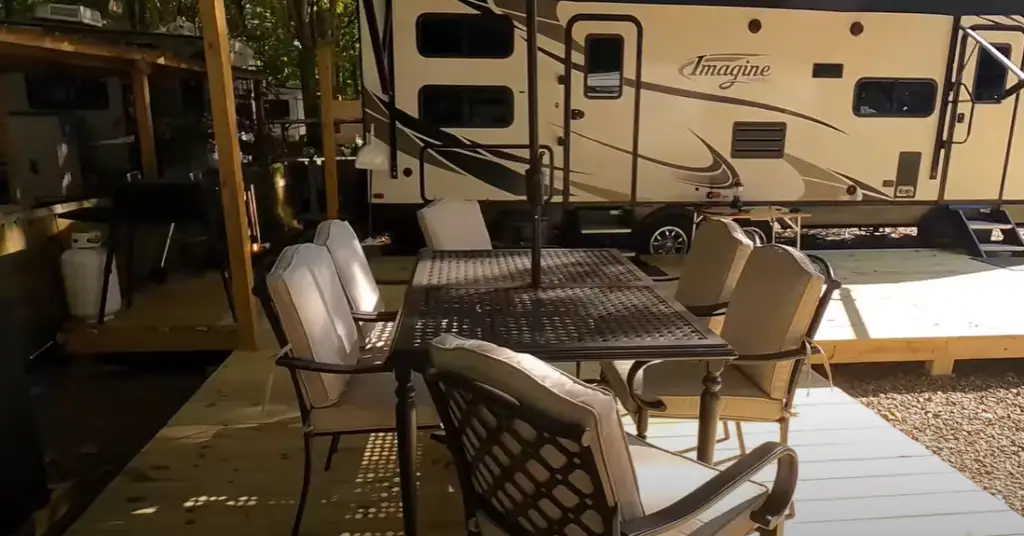 FAQ
How to decorate the outside of a camper?
Decorating the outside of a camper is a great way to add style and personality to your vehicle. The most important factor when decorating the exterior of your camper is to make sure everything you do is waterproof and durable.
One way to decorate your camper is with paint or vinyl wraps, which will give it an extra pop of color and help protect it from weathering and rust. If you want something more permanent, consider adding decals or stickers that have special meaning to you, such as representing a favorite hobby or holiday destination. You can also use rope lights around the window frames for a festive touch at night.
Another great way to spruce up the exterior of your camper is by adding accessories. You can hang a wreath for the holidays, or add windshield and bumper guards to give it extra protection. Adding awnings will also help keep your camper cool during hot summer days. Finally, don't forget to spruce up your outdoor living space with stylish camping furniture and decorations that represent your style and interests.
What type of maintenance should I do on my camper?
It is important to take care of your camper to ensure its longevity and safety. Regular maintenance should include checking fluid levels (such as oil, coolant, and brake fluid), inspecting tires, and cleaning the interior and exterior.
It is also important to check for any potential damage, as this could cause problems down the road. Make sure to inspect hoses and seals, look for cracks or tears in canvas or vinyl fabric, and test electrical systems. You should also make sure all parts are securely fastened and lubricated door hinges and locks.
Finally, it is important to keep up with regular maintenance to prevent breakdowns while out on the road. This includes checking tire pressure, changing oil every 3,000 miles or so, and making sure there is no rust or corrosion on your camper's body. Taking good care of your camper will help you enjoy many more happy camping trips!
How to decorate the inside of an RV?
Decorating the inside of an RV is a great way to make it feel like your own special space. The best place to start when decorating the interior of your RV is with colors and patterns that reflect your style and personality. Consider adding curtains, hanging wall art, or painting an accent wall.
Your furniture should also be comfortable and functional. Consider investing in additional storage solutions like cabinets or baskets for small items, as well as collapsible furniture that can take up less space when not in use. If you are looking for more of a permanent solution, consider installing built-in seating or replacing old appliances with modern ones.
Can you add a deck to an RV?
Yes, you can add a deck to your RV. Adding a deck will give you more space to enjoy the outdoors and is perfect for hosting outdoor gatherings. The most important thing to consider when adding a deck to your RV is making sure the structure is safe and secure.
When choosing materials, make sure they are designed for outdoor use and are weather-resistant. You should also make sure the deck is properly secured to the frame of your RV with lag screws or bolts so that it does not move in transit. Finally, take into consideration any applicable building codes or regulations before installing your new deck.
How can I make more room in my RV?
Making more room in your RV can help maximize the space, making it feel larger and more comfortable. One way to make more room is by getting rid of clutter. This includes old clothes and items that you no longer need or use.
Another great way to create extra space is to utilize wall-mounted or hanging storage solutions. These can be shelves, cabinets, or even a clothing rack for small spaces. You can also purchase furniture that doubles as extra storage, such as ottomans with built-in compartments or an air mattress with built-in drawers. Finally, consider investing in collapsible furniture or modular pieces so that they don't take up too much space when not in use.
How to choose the right RV?
Choosing the right RV for you depends on a variety of factors including budget, size, amenities, and intended use. First, consider how much you are willing to spend on an RV. This will help narrow down your options and ensure that you get the most bang for your buck.
Next, think about how large of an RV you need based on the number of people who will be using it. If you plan to bring along family or friends, make sure there is enough space for everyone. Consider also what types of amenities are important to you such as bathrooms, kitchens, slide-outs, or bunk beds. Finally, decide what kind of activities and travel destinations you plan to use your RV for so that you can choose a model that is suitable for the terrain and climate.
Useful Video: We Built a Porch for Our RV for Stationary Rv Living
Conclusion Paragraph
RV Porches provide a unique blend of convenience, comfort, and class. They offer an enjoyable way to spend time with family and friends while exploring the outdoors. With attractive designs, modern amenities, and ease of installation, RV porches are a great addition for any RV owner who wants to make their camping experience more comfortable and enjoyable. Whether you're looking for a party area or just a cozy spot to relax, an RV porch is the perfect solution. With careful planning and consideration for your needs, you can find the right one that enhances your travel experience.
References:
https://www.mortonsonthemove.com/rv-porch/
https://thecampingadvisor.com/diy-rv-deck-ideas/
https://koa.com/blog/rv-cleaning-tips-rv-interior-exterior-cleaning-tips/