If you've always dreamed of creating the perfect RV campsite for your getaways, then look no further! These easy setup tips will help you make your dream a reality. Whether you're a novice just getting started or an experienced camper looking to take their skills up a notch, these helpful hints can help you create the ideal RV campsite. From choosing the right spot to set up the perfect campfire, this guide will provide all the advice and ideas you need to make your next RV camping trip truly memorable!
What is an RV Campsite?
An RV campsite is a designated area designed for recreational vehicles or RVs to camp in. Typically, an RV campsite includes amenities such as electrical and water hookups, fire pits, picnic tables, and other features that make camping more comfortable. Some campsites are located in state parks or national forests and may also include restrooms, showers stores, restaurants, playgrounds, swimming pools, and other facilities.
Many private campgrounds offer a variety of activities for guests including fishing ponds or lakes for boating. Generally speaking, all RV campsites provide a safe place to park your vehicle overnight for the night so you can explore the surrounding areas without having to worry about where you will stay.
Whatever type of RV campsite you choose, make sure the area is safe and secure; this includes checking for sanitation facilities, security cameras, and any potential dangers such as wild animals. It's also important to check whether your RV campground allows pets before bringing them along on your trip. Most importantly, have fun! Enjoy the outdoors while relaxing with friends and family at your favorite campsite.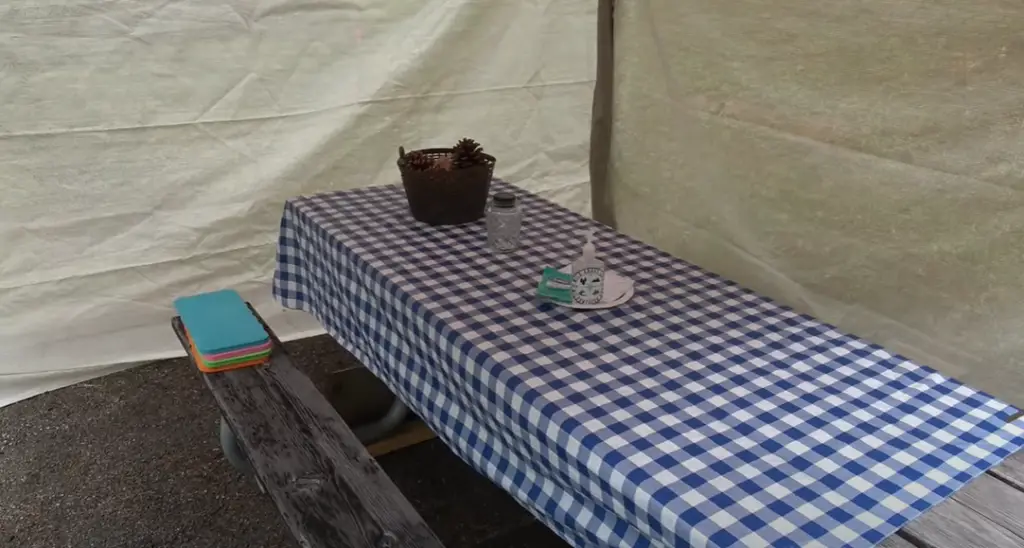 21 RV Campsite Setup Ideas for the Ultimate RV Experience
Campsite Games
Whether you're camping with your family, a group of friends, or alone, playing outdoor games is a great way to pass the time. Keep it traditional with classics like horseshoes and cornhole, or try something new like giant Jenga or Kan Jam. Other fun game ideas include bocce ball and ladder golf.
Campfires
Gather around the campfire for some cozy conversation in the evening after a full day outdoors. Bring along your favorite snacks and ingredients for s'mores to roast over the fire while catching up with loved ones. Enjoy singing songs together or listening to stories from those around you.
Outdoor Movie Night
Set up an outdoor movie night under the stars. You can find inflatable movie screens or simply create your own with a white tarp and projector. Gather around on some blankets and chairs, pop some popcorn, and get ready for a fun evening of entertainment.
Outdoor Yoga
If you're looking for something more active to do during your RV camping trip, try outdoor yoga! Enjoy the fresh air while stretching and strengthening your body in nature's beautiful surroundings. Plus, it's an energizing way to jumpstart the day before any other activities you have planned.
Outdoor Mats
Create a comfortable space for everyone to hang out by laying down outdoor mats. You can find outdoor rugs in all sorts of colors and patterns, making them perfect for adding a bit of warmth and style to your campsite.
Tiki Torches
Set the mood with tiki torches, perfect for providing some light when the sun goes down. Depending on the location of your campsite, you'll want to be sure that any open flames are allowed before lighting up any torches.
Rope Lights
Another great way to add some ambiance and light to your RV campsite is with rope lights. This type of lighting is battery-operated and comes in many different colors, making it easy to customize how your campsite looks at night.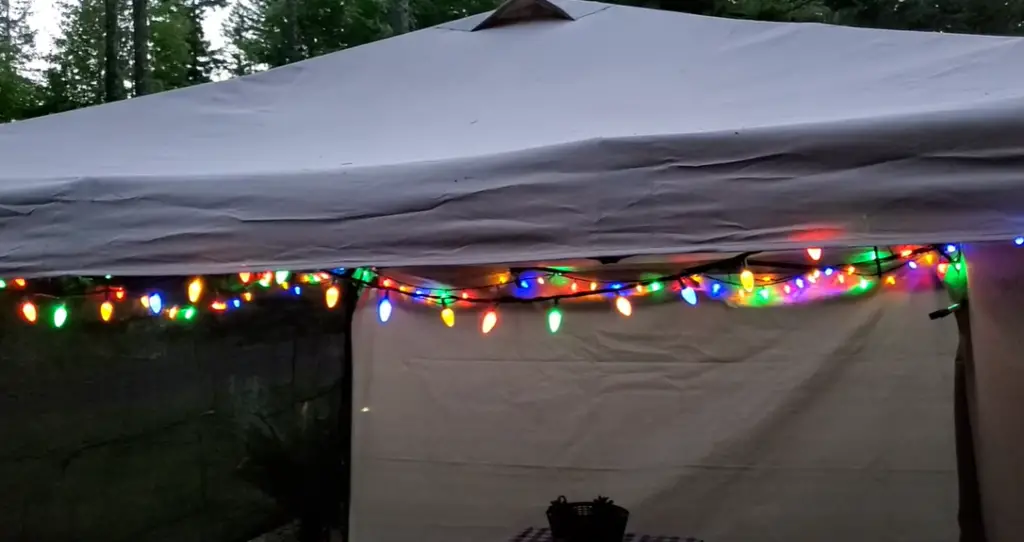 String Lights
Bring an extra sparkle to your RV campsite with string lights. Hang them up on the outside of your RV, or even get creative and use them as a canopy over the dining area. They give off a warm glow and create an inviting atmosphere for all who visit.
Table Space
Create a designated table space for eating, playing games, or gathering with friends. You can find foldable tables that are easy to transport and store away once you're done. This is also a great place to keep your food items off the ground when it's time to eat.
Outdoor Chairs
Make sure everyone has their own comfortable spot in which to relax by bringing along some outdoor chairs. Whether it's a hammock swaying between two trees, an Adirondack chair on your patio, or even just some cushioned chairs in the grassy area of your campsite – make sure everyone has somewhere to sit and enjoy the great outdoors!
Glow Tents
Add some enchanting decor to your campsite with glow tents. These illuminated structures are perfect for creating a cozy area to hang out in during the night. Plus, they're easy to set up and can really help make your camping trip one for the books!
Grill or Fire Pit
If you're looking to cook up some delicious meals while you're RV camping, make sure you bring along a grill or fire pit. Not only will this provide an easy space for cooking, but it will also be great when gathering around after dark as well. Bring along skewers for roasting marshmallows, veggies, and so much more!
Wash Down Area
Be sure to bring along a wash-down area of sorts for your RV camping trip. This can be as simple as one bucket with soap and another for rinsing, or you can even look into portable showers that attach to the side of your RV. Anything that will help keep everyone feeling clean and refreshed after a long day outdoors!
Bug-free Zone
Make sure you bring along some sort of bug-repellent for a bug-free zone. Whether it's citronella candles, essential oil sprays, or even just some bug nets that hang from the trees – having one area that is free from bugs will make your RV camping experience much more enjoyable!
Pet Containment
If you're bringing along a furry friend on your camping trip, make sure you have some kind of pet containment option. This could be as simple as a collapsible fence that sets up around the campsite or even just an area that is safe and secure for your pet to roam free.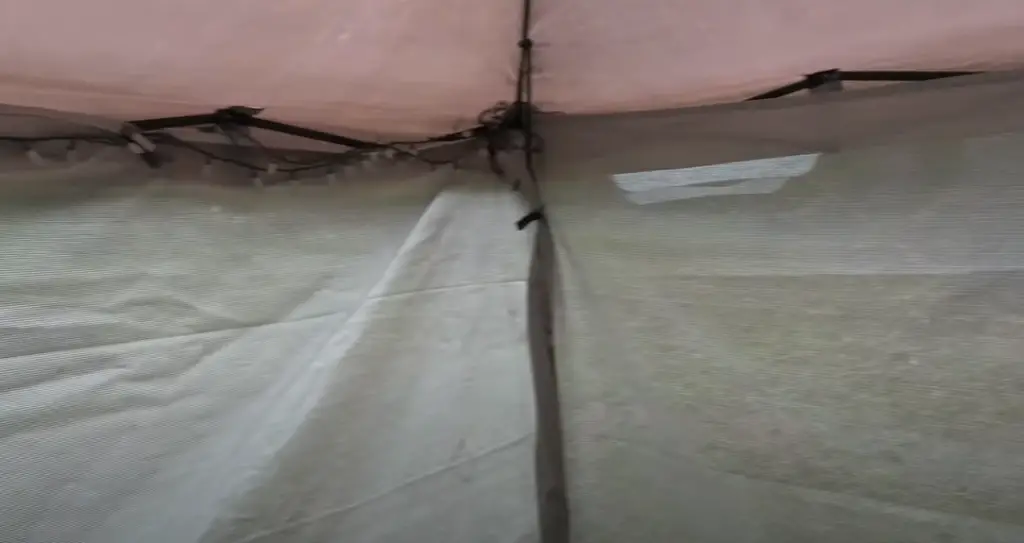 Mood Lighting
Create a calming atmosphere for your campsite with some mood lighting. This could be as simple as string lights hung up in the trees or even solar-powered lamps scattered around the grounds. Whatever type of lighting you choose, it will help to create an inviting and peaceful ambiance that everyone can enjoy.
Additional Amenities
Depending on where you're camping, there might be some extra amenities available to make your RV experience even more enjoyable. These could include hot tubs, pools, dock access for fishing or boating, or playground equipment for the kids.
Kid-only space
If you're traveling with kids, it can be helpful to set up a kid-only space for them. This could be an area where they can play board games, draw pictures, or just hang out with their friends. Designating this space will also help keep the noise level down in the main campsite so everyone else can relax and enjoy the surroundings.
Hammock
Hang up a hammock for some ultimate relaxation on your campsite. This is the perfect spot to just lay back and take in all of nature's beauty around you while listening to the sounds of birds chirping or waves crashing against the shoreline. Plus, it's great for napping during the day!
Outdoor Theater
Set up an outdoor theater for some entertainment at night. You can find inflatable movie screens or create your own with a projector and white tarp, making it easy to watch movies under the stars. Gather around on some blankets and chairs, pop some popcorn, and get ready for a fun evening of entertainment!
Recreational Sports
If you're looking for something more active to do on your RV camping trip, set up some recreational sports. This could include a badminton net, horseshoes, or even just a frisbee game in the grassy area near your campsite. With so many options to choose from, it's easy to find something that everyone can enjoy [1]!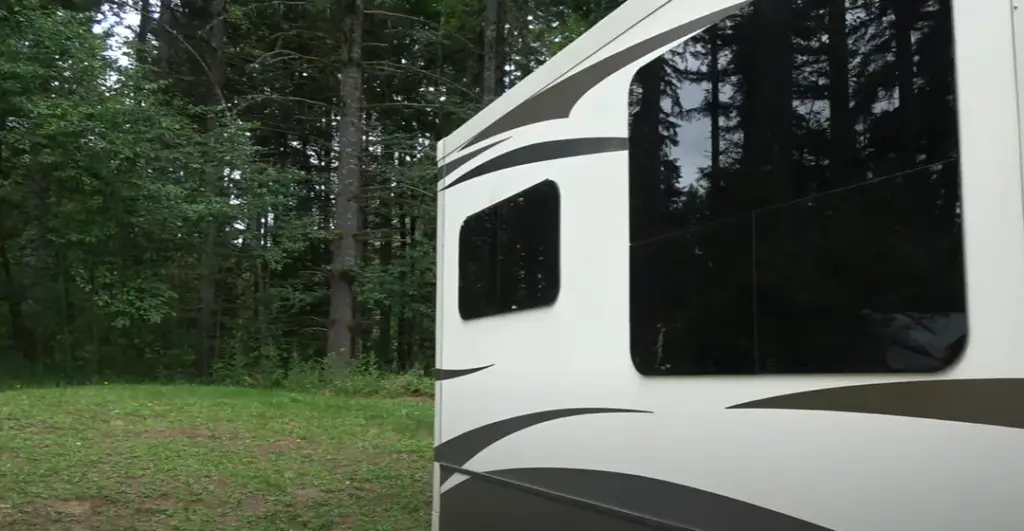 How to take care of RV Campsite?
Make sure to follow all local, state, and national regulations and guidelines. This includes ensuring that all campfire restrictions are followed and that no litter is left behind in the RV campsite.
2. Keep the site clean by picking up any trash that may be around your campsite or nearby areas. This will help keep people away from potential hazards such as broken glass or sharp objects while preserving the natural beauty of the area for other campers to enjoy.
Respect wildlife and plant life. Do not disturb any animals or plants that you come across while camping in an RV campsite. If necessary, use pest repellents instead of pesticides to keep pests away from your campsite.
Dispose of all sewage and graywater properly. Make sure to use designated dumping stations or other authorized locations when disposing of sewage and gray water from your RV campsite.
Keep noise levels down, especially at night. Loud noise can disturb other campers and wildlife in the area so make sure to be courteous and keep the noise to a minimum.
Practice good fire safety. Always make sure that any fires are completely extinguished before leaving the campsite, and never leave a fire unattended while it is burning. Also, do not leave anything combustible near an open flame as this could lead to serious damage or injury if left unchecked.
Secure the area around your RV. Make sure to lock all doors and windows when you are away from the campsite, and also utilize a security system if available. This will help prevent any unwanted guests or possible theft of your items while you are away.
Be aware of weather conditions in the area before setting up camp. It is important to be aware of potential hazards such as thunderstorms, high winds, or extreme temperatures so that you can take the necessary precautions to ensure safety at your RV campsite.
Respect other campers in the area and follow any posted rules for the campsite. Respect others' privacy and keep noise levels down during quiet hours (usually between 10 pm-7 am). Also, be mindful of where you place your RV so as not to block other campers' views or access to the area.
Have fun! Camping in an RV is a great way to get out in nature and enjoy some time away from the hustle and bustle of everyday life. So take all necessary precautions but also be sure to relax, explore, and make some lasting memories along the way.
What to consider when choosing the right RV?
When selecting an RV, several factors should be taken into consideration. These include the size of your family and how much space you will need in the RV, as well as the type of activities you plan on doing while on vacation. Additionally, you should consider the cost of renting or purchasing, insurance rates, fuel efficiency, and towing capacity.
Finally, make sure you evaluate how much storage and preparation space is available in the RV for all of your needs. Consider if any special amenities may be beneficial during your trip, such as solar power, refrigerators, comfortable beds, or awnings. Taking time to consider these factors will help ensure that you select an RV that is well-suited for your next vacation!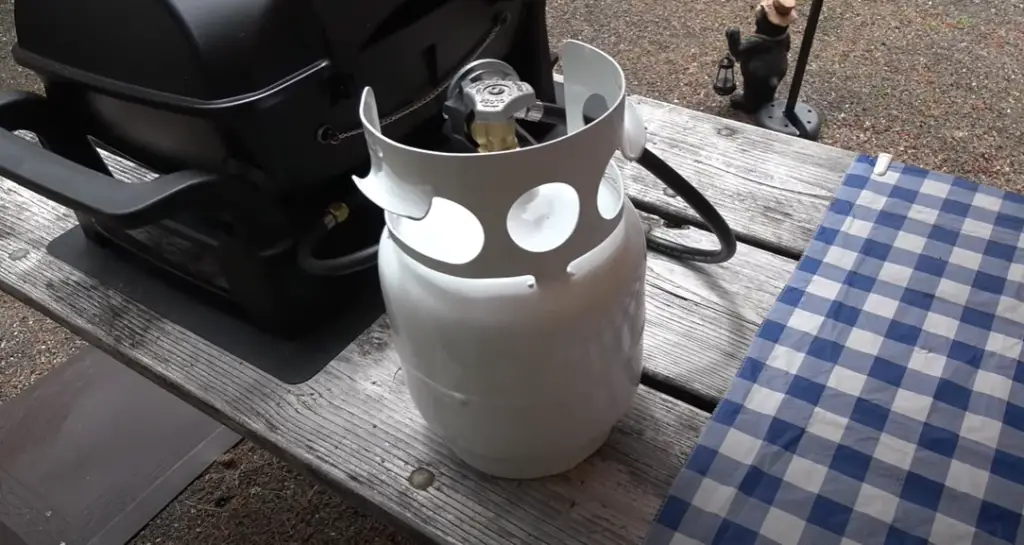 How to maintain an RV?
Just like any other vehicle, RVs require regular maintenance and upkeep to ensure they stay in working condition. Below are some steps that can be taken to keep your RV running smoothly:
Inspect the Roof: The roof of your RV is exposed to the elements and can easily succumb to damage from UV rays, rain, hail, and more. Regularly inspect the roof for signs of wear or damage such as cracked seals or missing shingles. If you notice any issues, have them repaired promptly so they don't become a bigger problem down the line.
Change Fluids and Filters: Keep up with oil changes and regularly check all of the fluids in your RV (antifreeze, brake fluid, transmission fluid, engine coolant). Make sure to also check and change the air filter regularly.
Clean the Exterior: Give your RV a good wash and wax periodically to keep it looking its best and protect it from dirt, debris, and moisture. Don't forget to clean the windows!
Check Tires: Make sure that all of your tires are properly inflated and in good condition – replace any tires that are worn or damaged.
Maintain Interior: Vacuum out the interior of your RV regularly and thoroughly clean upholstery, carpets, floors, appliances, etc.
Repair Electrical Problems: Have any electrical problems resolved quickly by an experienced professional so you avoid further damage or injury.
Following these steps will help ensure that your RV is in good condition and able to provide you with many years of use. Of course, always follow the manufacturer's guidelines for regular maintenance and keep up with any recalls or other necessary repairs. By taking good care of your RV, you can enjoy worry-free camping trips for years to come [2]!
FAQ
How do you lay out a campsite?
When setting up your campsite, you'll want to consider the following things:
Choose a spot that is level and away from low-lying areas or areas prone to flooding.
Make sure to clear any debris or hazards from the area before setting up your tent or RV.
Place your tent or RV so that it faces away from prevailing winds and direct sunlight for optimal comfort and protection against wind and rain.
Place stakes into the ground around your tent/RV to provide further stability in case of strong winds or storms.
Set up a fire pit at least 10 feet away from any flammable objects like tents, trees, etc., with adequate clearance from above.
Arrange seating around the fire pit, such as logs or chairs, for a comfortable spot to relax and enjoy your time outdoors.
Place any other items like coolers, tables, food storage containers, etc., in designated areas away from the tent/RV to avoid clutter and tripping hazards.
Make sure that all food is stored in airtight containers away from animals and out of direct sunlight to prevent spoilage.
Dispose of trash properly by using garbage cans or dumpsters provided at the campsite location or by packing it out with you when you leave.
Keep a first aid kit on hand in case of any injuries or medical emergencies.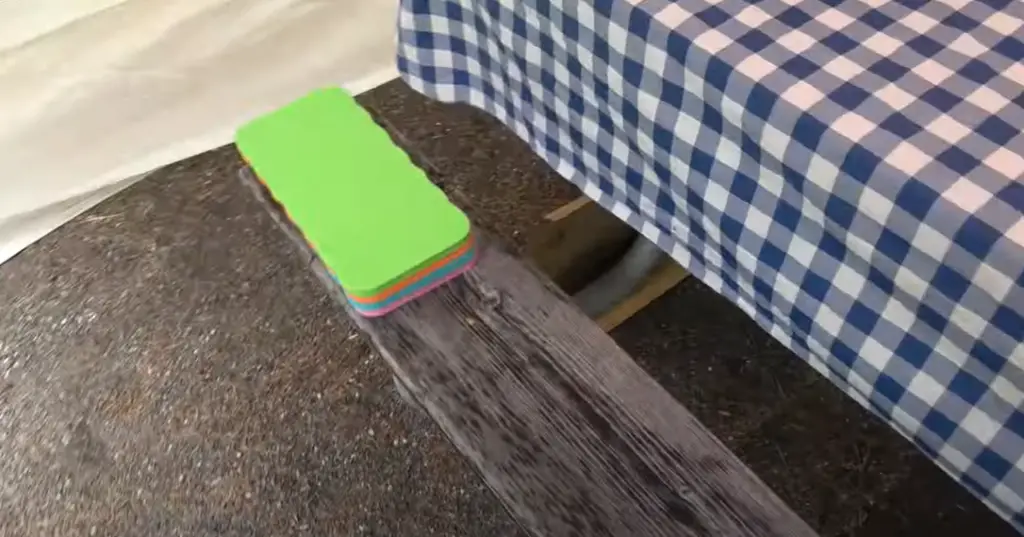 What makes a perfect campsite?
A perfect campsite meets all your camping needs while also being comfortable and safe. The ideal campsite should provide plenty of space for pitching a tent or parking an RV, as well as enough room to spread out chairs, tables, fire pits, etc. It should be level and away from low-lying areas or areas prone to flooding. It should also have plenty of shade and/or shelter from the elements like wind and sun. Finally, make sure the campground has convenient access to restrooms, showers, potable water, and other amenities you may need during your stay. With these criteria in mind, you're sure to find the perfect campsite for your next outdoor adventure!
How to decorate the outside of a camper?
There are many ways to decorate the outside of your camper and make it truly unique. You can use outdoor lights, flags, plants, and other decorations to give your RV a look that reflects your personality. Here are some ideas to get you started:
Add string lights along the roofline or around windows for a cozy atmosphere.
Hang an outdoor flag or banner with your favorite logo, team colors, or even artwork from local artists.
Plant flowers in colorful pots along the steps of your RV for a pop of color and life.
Install window decals featuring inspirational quotes or fun designs like stars and moons for added personality.
If you have an awning, hang wind chimes or other decorations from it for extra charm.
Add outdoor rugs to spruce up your patio area and make it more inviting for guests.
Place decorative elements like lanterns, small sculptures, or even a windmill near the entrance of your RV to create a unique and welcoming vibe.
What to avoid in the perfect RV campsite?
When choosing the perfect RV campsite, it's important to avoid areas that could potentially be hazardous or uncomfortable. Here are some things to look out for:
Steep inclines that make it difficult for your RV to navigate.
Low-lying areas or places close to bodies of water that may flood easily during heavy rains.
Areas with deep mud or sand that can get stuck in your tires and cause damage to the vehicle over time.
Sites too close to other campers – you'll want enough space between your RV and any nearby neighbors so you're not disturbing one another with noise or light levels at night.
Places without adequate shade or shelter from the wind and sun.
Sites without access to restroom facilities or potable water sources that are essential for comfortable camping.
Locations without any type of cell phone reception, WiFi access, or other forms of communication available.
Why is it important to maintain an RV?
Maintaining your RV is essential for keeping it in good condition and ensuring its safety. Regular maintenance can help extend the life of your RV, prevent potential problems, and ensure a comfortable experience on the road. Some simple things you can do to maintain your RV include checking and changing the oil regularly, inspecting brakes and wheel bearings, and checking fluids levels. Additionally, you'll want to check and change the air filter regularly as well as clean the exterior of your RV periodically to protect it from dirt, debris, and moisture. Finally, make sure that all tires are properly inflated and that any electrical problems are resolved quickly by an experienced professional.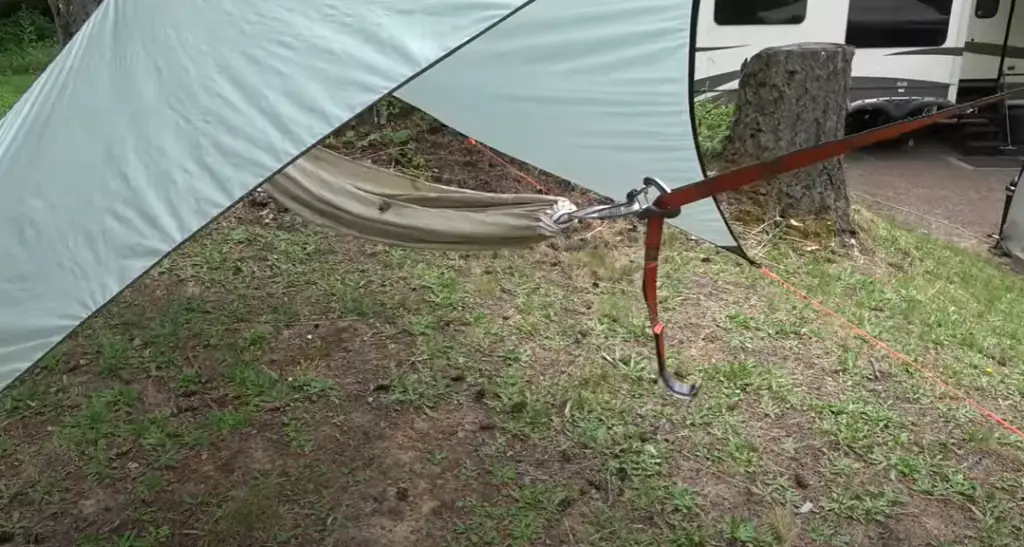 What are some tips for taking care of an RV?
Taking good care of your RV is essential for extending its life and keeping it in good condition. Here are some tips to help you take proper care of your RV:
Follow the manufacturer's guidelines for regular maintenance and keep up with any recalls or necessary repairs.
Store your RV in a covered area away from direct sunlight when not in use to protect its exterior from UV damage.
Clean both the interior and exterior of your RV regularly to remove dirt, debris, and moisture that could cause problems over time.
Inspect the tires periodically and make sure they are properly inflated at all times before each trip.
Where can you find RV parts and accessories?
RV parts and accessories can be found in many different places depending on what you're looking for. Camping World, Amazon, and other online retailers are great sources for general RV supplies like hoses, cleaning products, and storage containers. Your local auto parts store may also carry some specific items related to your make and model of RV. Additionally, you may want to check with specialty stores like Winnebago Parts or Fleetwood Parts that specialize in providing OEM parts for certain models of RVs.
Useful Video: Campsite Setup Tour | Full-Time RV Life
Conclusion Paragraph
RV Campsite setup is a great way to enjoy nature and the great outdoors. It gives you the opportunity to escape from your daily life and let yourself relax in your own private space. Whether you choose an RV Campsite, a primitive campsite, or something in between, camping is an enjoyable and rewarding experience that can bring your family closer together. With many options available for sites, activities, amenities, and even budgeting considerations, there are plenty of ways to customize your camping experience to make it suitable for everyone involved. Regardless of how you plan your trip, with careful planning and preparation, RV Camping promises to be an exciting adventure filled with memories that will last a lifetime!
References:
 https://beginrv.com/12-rv-campsite-setup-ideas-for-the-ultimate-rv-experience/
https://www.rvguide.com/news/how-to-take-care-of-your-travel-trailer/